ICHARM training policy & activities
For Capacity Development
To cope with major water-related disasters, such as floods, it is important and essential to strengthen not only individual but also organizational capacity in disaster management, because there is always limitation for what each person can do. Well aware of that fact, ICHARM conducts the following training courses which can contribute to organizational capacity development through training individuals.
* Comprehensive Management of River and Dam (JICA)
* Making JICA Training Program: Capacity Development for Flood Risk Management with IFAS (JICA)
* Water-related Risk Management Course of Disaster Management Policy Program (JICA & GRIPS)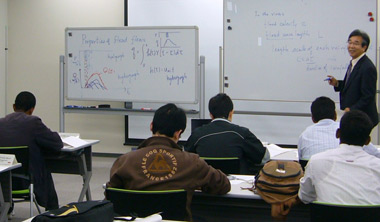 Lecture by Prof. Fukuoka (Chuo Univ.)
And ICHARM has also conducted three "follow-up" seminars as a follow-up activities for ex-trainees.
The third "Follow-up" Seminar in Manila (February 2009)