Study on the development and conservation of fishery infrastructure of cold waters that contribute to strengthening food supply capacity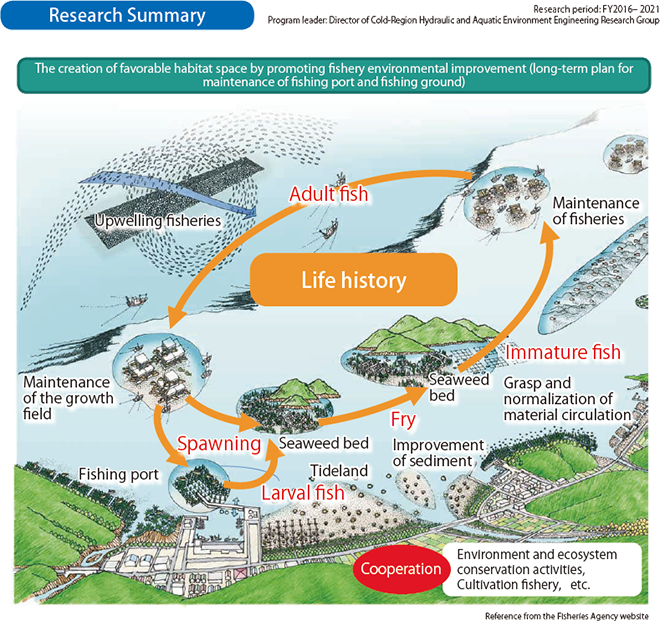 With increase of the world population, dietary changes and the frequent occurrence of abnormal weather, there is a possibility that the relationship of food supply and demand in the world is tightening. In the future, the role of the fishery industry in Hokkaido, which has the country's largest food supply capacity, increases even more than ever before. It is essential to improve resource productivity of Hokkaido in surrounding waters and strengthen fishery products.
For this reason, in rivers, coastal areas and surrounding ocean of Hokkaido, we will improve the protection/nurturing function of coastal structures and develop the technology to support the sustainable use of fishery resources. We also promote cultivating fisheries by aquaculture that takes advantage of the quiet fishing port harbor waters, and maintain and improve productivity of the fisheries by large-scale fisheries development. This makes it possible to raise the productivity of the entire ecosystem and promote the fishing area by support of cultivating fisheries.
We work in the following research topics to achieve these objectives.
①

Develop and maintain assessment technology for the protection/nurturing function of fishery living organisms in coastal facilities.

②

Create comprehensive assessment methods concerning the development effectiveness of large-scale fisheries

③

Develop effective use and maintenance technology of the fishing harbor to strengthen support of the firming fishery

④

Create impact assessment and improvement methods concerning the river structures and costal structures by understanding of swimming behavior of high-valued fish.

Go to Top of This Page