news
ICHARM Quick Report on Floods 2007 Celebrates Completion of ICHARM Auditorium.
The International Centre for Hazard and Risk Management of the Public Works Research Institute (ICHARM/PWRI) held a symposium, "ICHARM Quick Report on Floods 2007," on November 6 at the ICHARM auditorium. This symposium was held to celebrate the eagerly awaited completion of this auditorium. The auditorium with capacity of about 60 people was filled with participants, including 29 foreign trainees presently studying at ICHARM in addition to professors, experts in water-related disasters, and researchers of PWRI and the National Institute for Land and Infrastructure Management.
Dr. Sakamoto, PWRI chief executive, started the proceedings. He expressed concerns over extraordinary meteorological phenomena which have frequently occurred on a global scale in recent years. Speaking about flood events which occurred this year in southern China, Britain, India and African countries, he hoped that the symposium would offer significant insights into how the world should prepare for such phenomena.

Dr. Takeuchi, ICHARM director, also spoke at the beginning of the symposium. He said that adaptation to predicted climate change in the future was one of the important keywords for ICHARM to conduct various activities to prevent or mitigate water-related disasters. He also told the audience that ICHARM would provide occasions like this symposium to proactively inform the public, experts, and other relevant parties about water-related issues.

For this symposium, ICHARM invited two foreign experts. Dr. Kuang Shangfu, director general of the China Institute of Water Resources and Hydropower Research, was the first speaker and gave a presentation entitled "Flood Disaster and Flood Countermeasures in China." He explained that damage which inflicted on China by water-related disasters was decreasing in the 1990s and 2000s, but still accounted for 1.8% of the country's GNP. He also pointed out that human loss in flood events had been consistently decreasing since the 1950s, while economic loss per unit area had been increasing. He then described China's flood control measures. According to Dr. Kuang, since the Yangtze Great Flood in 1998, China's Ministry of Water Resources has taken action based on three fundamental policies: 1) Consider both floods and droughts as priority issues; 2) Promote a shift from flood control to flood management; 3) Create harmonious coexistence between humans and floods. He discussed specific disaster events to explain how China tries to handle them using structural measures, such as the Three Gorge Dam, detention/storage zones and levees, and non-structural measures, such as the China Water Law, revision of relevant laws and flood hazard mapping. The audiences were amazed by the gigantic scale of the disasters in his presentation.
Dr. Ian Cluckie, director of the Water and Environmental Management Research Centre at the University of Bristol, spoke after Dr. Kuang. He reported on the 2007 flood disasters in southern Britain and lessons learned from the disasters in his presentation, "Flood Related Disasters in the UK." Pointing out that rainfalls in some parts of the country exceeded the return period of 200 years, he said, "if risk changes as a result of climate change, the concept of return periods becomes meaningless." He also told the audience that storm surges were of more serious concern in Britain than floods in relation to climate change. Dr. Cluckie ended his presentation emphasizing the importance of the collaboration between the areas of meteorology and environmental studies for future action.
After the two foreign experts, Mr. Mori gave a presentation about the recent trend of flood disasters in Japan and possible countermeasures to respond to an increasing frequency of torrential rains in recent years. He is the senior deputy director of the Disaster Risk Management Office, Disaster Prevention and Relief Division, River Bureau, Ministry of Land, Infrastructure and Transport.
A panel discussion followed the three presentations, with Dr. Takeuchi as moderator. The presenters and the audience actively exchanged questions and answers as well as opinions about adaptation strategies for flood disasters due to global climate change which is highly likely to occur in the future.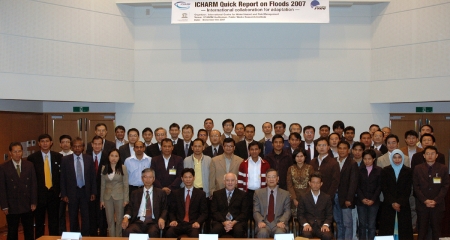 Group photo in the new ICHARM auditorium.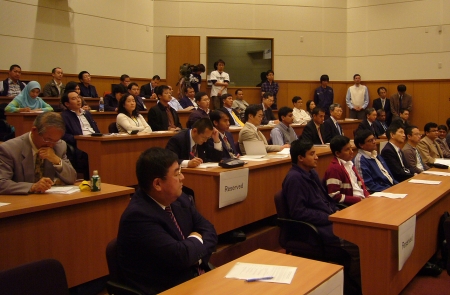 The audience intently listen to a presentation.