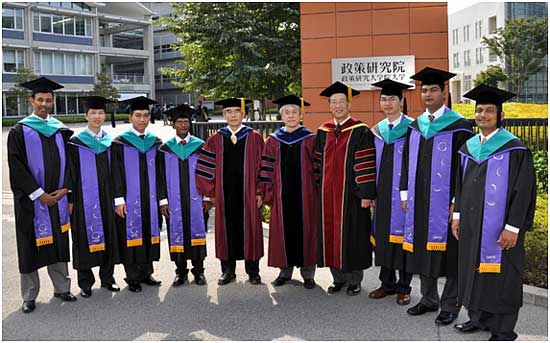 Newly graduated students pose for photos with three faculty members
at the front gate of the National Graduate Institute for Policy Studies (16 September 2009)
ICHARM conducted an annual Master's course, the Water-related Risk Management Course of Disaster Management Policy Program, from 30 September 2008 to 19 September 2009 as a joint effort with the Japan International Cooperation Agency (JICA) and the National Graduate Institute for Policy Studies (GRIPS).
Out of nine who initially started the course, seven students (two each from China and Bangladesh, one each from Nepal, Indonesia and Ethiopia) finally met the graduating requirements and obtained the degree of the Master of Disaster Management. After the graduation ceremony, the new graduates proudly returned to their home countries with their enhanced expertise.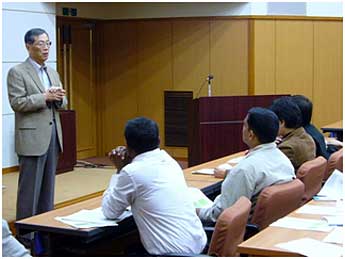 ICHARM Director Takeuchi gives a lecture to Master's program students.
This Master's course is unique in several aspects. For example, it requires only one year for students to earn a Master's degree. It emphasizes development of problem-solving capability. To this end, it is designed to help students enhance their capacities of coming up with and propose solutions to problems they face in their home countries. In addition, it focuses more on practical than theoretical aspects of disaster management.
The annual course curriculum of the training program is arranged to intensively provide students with lectures and exercises in the first six months. Lectures and exercises cover a wide variety of issues that students need to have a good understanding of disaster management. Fundamental subjects include disaster mitigation policy, disaster risk management, integrated flood risk management, hydrology, and hydraulics. Practical subjects include local disaster management planning and hazard mapping, dam engineering, sabo engineering, and project cycle management.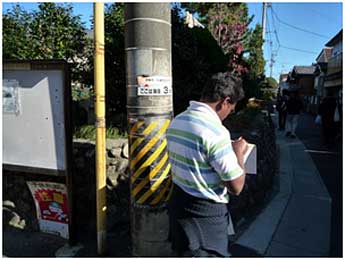 Students conduct Town Watching at Ominato District, Ise City.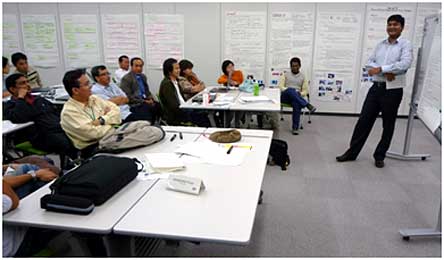 A group discussion is held after Town Watching.
In November 2008, the trainees of the Flood Hazard Mapping training course, which was also co-organized by JICA and ICHARM, joined the Master's course to take part in lectures and exercises related to flood hazard mapping. The joint class consisted of 19 students in total from 11 countries, including Bangladesh, Cambodia, China, Ethiopia, Indonesia, Laos, Malaysia, Nepal, the Philippines, Thailand and Vietnam. It was an inspiring experience for each student to study with this many people with different nationalities and backgrounds. The Town Watching exercise was a typical example. In the exercise, they walked around the city in groups while checking certain points from a disaster management viewpoint. After that, each group mapped the route they had taken and discussed what precautions to give to local residents and how to increase their disaster preparedness to mitigate flood damage. Discussion from diverse perspectives must have increased their understanding of the entire process of flood hazard mapping.
The Master's program students also took several field trips to see flood management projects for major rivers in Japan. They visited: metropolitan flood management structures in October 2008 (Watarase Retarding Basin, Metropolitan Area Outer Underground Discharge Channel, Kanda River Underground Regulating Pond); Rivers in the Chugoku Region in March 2009 (Hiigawa, Ohtagawa); Isawa dam construction site, Ichinoseki Retarding Basin, local public offices (Hada District in Oshu City of Iwate Prefecture, Kesennuma City of Miyagi Prefecture) in June 2009; natural dams in Imogawa River, Shinanogawa River Diversion Channel, Kurobegawa River for sediment-related disaster countermeasures in August 2008.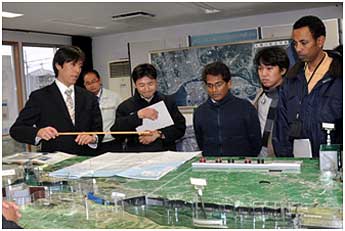 Students listen to local staff explain about the Hii River improvement project at the Ohashigawa Community Center.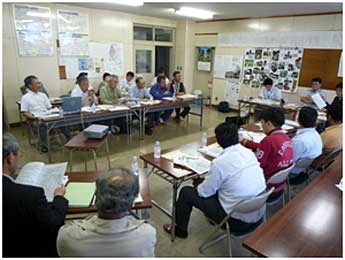 Students interview with local residents at the Hada Community Center in Hada District, Oshu City.
The curriculum for the second half of the program was arranged to help the Master's students concentrate on their Master's theses which should present solutions to flood-related issues in their countries. They steadily worked on their theses taking helpful advice from ICHARM researchers despite the difficulty of living in an unfamiliar environment for quite a long time. Finally, on 7 August 2009, they each presented results of the one-year Master's training at the ICHARM Auditorium.
This Master's program helps not only students but also ICHARM. The program is a great opportunity for students to increase professional knowledge and skills by working on theses. At the same time, it greatly helps ICHARM build closer relationships with students and create and expand a global network through them. The network of this kind will contribute to future ICHARM activities to a great extent.
This year, the Master's program added another unique feature to itself to motivate students to work even harder on graduation theses. They were strongly encouraged to submit theses to scientific societies in Japan. As a result, two students were given an opportunity to present their theses at the Japan Society of Hydrology and Water Resources in August, and at the 11th International Summer Symposium in September hosted by the Japan Society of Civil Engineers, respectively. The training program will continue to provide prospective students with presentation opportunities such as these and further motivate them to work towards better Master's theses.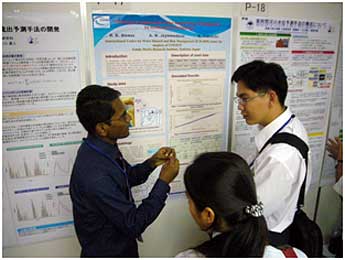 Mr. Robin makes a poster presentation at the Japan Society of Hydrology and Water Resources.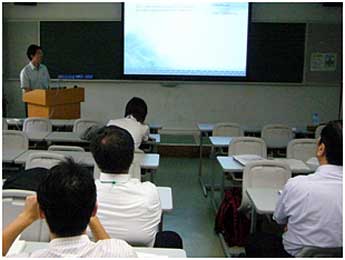 Mr. Jin makes a presentation at the International Summer Symposium.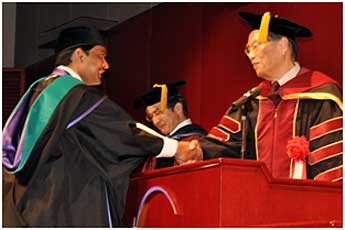 Mr. Sah shakes hands with ICHARM Director Takeuchi after receiving a Master's diploma at GRIPS.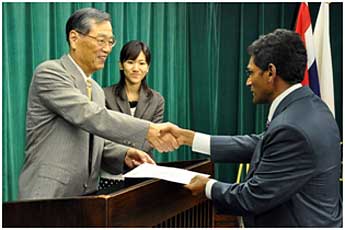 Mr. Robin receives the Outstanding Award from ICHARM Director Takeuchi.
On 16 September 2009, the graduation ceremony was held at GRIPS, and the closing ceremony followed at the JICA Tsukuba Office on the 18. Mr. Robin Kumar Biswas of Bangladesh was awarded the Outstanding Award by ICHARM for his highest technical achievement in this fiscal year's Master's program.
This training program ultimately aims to foster solution-oriented practitioners with solid theoretical and engineering bases who can serve for planning and practices of flood management within the framework of integrated river basin management at all levels from nations to localities. The program organizers, however, have realized that the goal is not attainable in the short term. Regular follow-ups are essential even after the students return to their countries.
This marked the second year of this Master's program. After the first year, the organizers thoroughly reviewed the program, including schedule and curriculum, and made improvements. However, it is clear that there are still a lot to be improved and to do that, feedback from experts and relevant organizations is necessary.
Finally, ICHARM, as the program organizer, would like to express sincere thanks to lecturers from universities and public offices who spared their precious time despite their busy schedules. Gratitude also goes to those in local public offices and the regional offices of the Ministry of Land, Infrastructure, Transport and Tourism as well as local residents. They were all willing to devote themselves to making the students' field trips meaningful.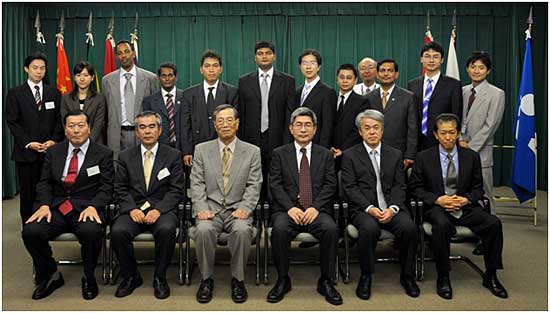 Students pose for photos with program organizers at the closing ceremony held at the JICA Tsukuba Office (18 September 2009).