ICHARM had been intensively discussing with the Asian Development Bank (ADB) to jointly start a collaboration project in the Asian region to provide technical assistance in water-related disaster management.

Finally, both organizations agreed to officially start a regional technical assistance project, and the signing ceremony was held on 13 November 2009 at the ADB Headquarters in Manila, the Philippines. The project agreement was signed by three representatives – Mr. Xianbin Yao, director-general of the ADB Regional and Sustainable Development Department, Dr. Tadahiko Sakamoto, chief executive of the Public Works Research Institute (PWRI), and Prof. Kuniyoshi Takeuchi, director of ICHARM.

The project is officially called "Regional Technical Assistance (RETA) 7276: Supporting Investment in Water-Related Disaster Management" and scheduled to be carried out until April 2011. Further information is available on the ADB website at: http://pid.adb.org/pid/TaView.htm?projNo=42110&seqNo=01&typeCd=2. ADB is ready to invest $ 2 million in the project, part of which will be provided to PWRI to cover the necessary expense.

The project focuses on the Asian region that constantly suffers from floods, particularly Bangladesh, Indonesia, India and the Lower Mekong Basin (i.e., Vietnam, Cambodia and Laos). The role of ICHARM is to offer technical assistance that will help each country make effective disaster management investment in the future. Some of the key country-specific activities included in this RETA project are as follows:
Model application of a satellite-based flood forecasting and warning system - so-called Integrated Flood Analysis System (IFAS) - to the Solo River basin in Indonesia

Demonstration of community-based flood management approaches (Indonesia and Bangladesh)

Review and proposals for improvement on the early flood warning system in Bangladesh

Development of flood and drought vulnerability indices for the Lower Mekong Basin

Capacity building (training) of local experts at ICHARM on local disaster management plans for Bangladesh and Indonesia

Organization of regional workshops to share knowledge and the latest information on selected topics, such as adaptation to climate change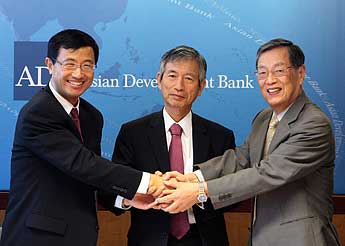 Director-General Yao (left), Chief Executive Sakamoto (center)
and Director Takeuchi (right) shake hands at the signing ceremony.
After signing the agreement, ICHARM members have already made a series of initial visits to the selected countries, and discussed with key counterparts about detailing future plans for smooth implementation of expected activities. Also experts have been invited from Bangladesh and Indonesia to participate in a training course on local disaster management.

ICHARM will be involved in this project for the next one year in different countries and will report the progress of RETA7276 through the ICHARM website and newsletters.