The ICHARM-UNU Joint International Symposium, entitled "Floods - A global problem that needs local solutions", was held at the United Nations University (UNU) on 28 September on the occasion of the 3rd ICHARM Advisory Board meeting.
The purpose of the symposium was to contribute to the mitigation of water-related disaster damage by introducing latest problems on floods throughout the world to the general public and by having discussions on local coping measures with those active in domestic and overseas disaster-related organizations. The advisory board members kindly delivered a presentation on related issues in response to the request made by ICHARM.
The symposium started with the organizers' opening remarks by Dr. Taketo Uomoto, chief executive of PWRI, and Dr. Konrad Osterwalder, rector of UNU, followed by a series of congratulatory addresses by Mr. Kenyu Komura, vice minister for Engineering Affairs of MLIT, Mr. Nobuo Fujishima, director-general for International Affairs of MEXT and Mr. Hiroki Oowaki, deputy director-general of the International Cooperation Bureau of MOFA. Then, Prof. Kuniyoshi Takeuchi, director of ICHARM, and Prof. Srikantha Herath of UNU introduced activities of ICHARM and the International Flood Initiative (IFI). In the afternoon, experts from various parts of the world each made presentations as regional reports, followed by a panel discussion moderated by Katsuhito Miyake, a team leader of ICHARM, and Prof. Srikantha Herath with representatives of international disaster-related organizations.
In the regional reports, experts from U.S., Russia, Jamaica, Malaysia, Republic of Cote d'Ivoire and Egypt spoke on the situation of water-related disasters that they are facing, countermeasures that are in place, and issues to be addressed. They commonly mentioned promoting efforts in implementing disaster mitigation strategies at each level from local to regional to national, updating policies and regulations on flood disaster mitigation, and sharing flood-related information among organizations.
The panel discussion, in turn, focused on worldwide cooperation to cope with the issues presented in the regional reports and other speeches. The discussion confirmed the necessity of long-term cooperation between organizations with resources including manpower, funds and expertise, the importance of stronger ties at the practical level between such organizations and those in need of help, and the significance of improving the quality of regional governance by capacity development.
ICHARM will make use of the discussions of this symposium to further improve future activities.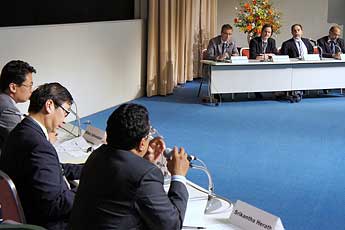 Panel Discussion.
This symposium was accredited as a Continuing Professional Development (CPD) Program by JSCE.
You can download a flier from here.