news
ICHARM's Inauguration Anniversary Symposium
On May 10th in 2006, we held ICHARM's Inauguration Anniversary Symposium entitled 'Towards Global Water Induced Disaster Reduction - Cooperating through ICHARM-' at United Nations University (http://www.unu.edu/index.htm). Participants of this symposium were mostly from universities, private companies, independent organizations and foundations those working in various fields such as disaster prevention, water management, agriculture, meteorology, construction, insurance, marine etc. Opinions were exchanged among participants, which were 80 in numbers.

Objectives and action policy of ICHARM was explained by the Director of the Centre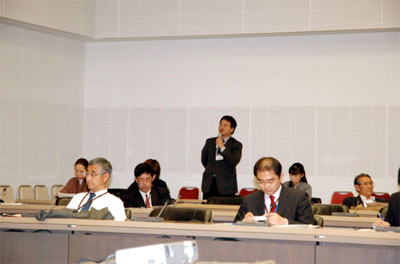 Active discussion was done by about 70 participants.
In the former part of the symposium, members of ICHARM introduced summary reports on ICHARM, its action plan and its implementation process. Specific issues on immediate actions were elucidated by the director of the centre Professor Kuniyoshi Takeuchi. In the later part, we held a panel discussion moderated by Professor Kaoru Takara, a vice president of the Disaster Prevention Research Institute (DPRI), Kyoto University. In this discussion, we exchanged opinions from broad horizon on the issues concerning what should ICHARM undertake and what should be expected for reducing recurrent water disasters worldwide. Many interesting ideas were suggested and they are summarized below.
Initiation of needs driven approach is essential to characterize ICHARM's activities.


Disaster prevention techniques developed in Japan are suitable only for domestic use; so it is required to customize such techniques thereby make them fit in other conditions in respective countries. Research will be needed to achieve this ambition.


It is important to know that how to determine the needs of a particular area from the view point of disaster prevention.


Combining needs assessment and resources assessment, proper needs should be determined with consideration of realization potential all the time.


Implementation of comprehensive risk management needs knowledge and experience in a broad range of fields; therefore alliance between ICHARM and related institutions is imperative. Meanwhile, there would be a need to establish an effective mechanism that bonds those institutions. It is also important for ICHARM to develop a wide range of human resources and play an active role in the processes.


Response of community to solve the problems in a local arena is also important.


It is noteworthy to work closely with various related organizations in connection with training operation, database building and field inspection.
In the meantime, we received specific suggestions from audiences regarding possible coordination with organizations.