news
ICMARM sincerely express our deep condolences for the death of Dr. Roman Kintanar, the Great Meteorologist, the father of Typhoon Committee.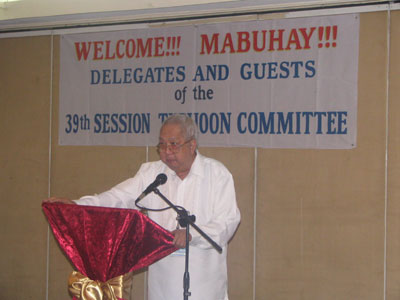 Dr. Kintanar
Dr. Roman Kintanar (77), who headed the Philippine Atmospheric, Geophysical, and Astronomical Services Administration (PAGASA) for 36 years died of cancer on May 6, 2007.
Born in 1929, Dr. Kintanar finished his Bachelor of Science major in Physics at the University of the Philippines in 1951. He finished both his Master of Science (M. S.) and doctorate of Science in Physics at the University of Texas, USA.
Dr. Kintanar served as PAGASA director for 36 years, from 1958 to 1994. He was also a two-term president of the United Nations' World Meteorological Organization from 1979 to 1987.
Dr. Kintanar served the Secretary of the Typhoon Committee from its establishment in 1964 until last year. The Typhoon Committee, under the auspices of ESCAP and WMO, was constituted with a view to promoting and coordinating efforts for minimizing tropical cyclone damage in the ESCAP region in 1964.
After 40 years of the establishment, the Committee is now considered one of the most successful inter-governmental organizations aiming at reducing the impact of meteorological/hydrological hazards.
ICHARM would like to express its sincerest condolences toward his death, and wishes that it would follow his accomplishments in reducing the damage of floods. Just last month, the International Astronomical Union (IAU) officially named minor planet no. 6636 after him. May he be guiding us from the heaven eternally.