news
2nd ICHARM advisory board meeting, and 3rd IFI AC/MC meeting held at ICHARM(1st and 2nd October 2008)
2nd ICHARM Advisory Board Meeting (1st October 2008)
ICHARM, established under the auspices of UNESCO, is required to have a biennial advisory board meeting. In the meeting, ICHARM reports activities during the past two years and presents an action plan for the next two years. The board members ask questions and give advice to help ICHARM to act effectively with a clear vision.
The ICHARM advisory board consists of 13 prominent individuals. Some are members of the UNESCO International Hydrology Progremme, representing each regions of the world, while other come from international organizations, such as the UNESCO Headquarters, World Meteorological Organization (WMO), and United Nations International Strategy for Disaster Reduction (UN/ISDR).
The advisory board meeting was held at ICHARM in Tsukuba, Ibaraki. The board highly praised the global contributions ICHARM made for the past two years and also gave useful comments and advice on various issues, such as the importance of cooperation with other international organizations in research and training and the necessity of training designed specifically for policy makers in addition to engineers. The board also suggested the importance of research on hydrologic cycle from a viewpoint of climate change as a future research topic.
ICHARM is planning to publish the "ICHARM Action Plan 2008-2010" around the end of October 2008 after reviewing it based on comments and advice from the board members.
2008 ICHARM Adviory Board Members
1. Mr. Eugene Z. Stakhiv (Group1:USA)
Executive Director, Institute for Water Resources (IWR)
U.S. Army Corps of Engineers
2. Mr. Maciej Zalewski (Group2: Poland)
Director of the European Regional Centre for Ecohydrology u/a UNESCO
3. Mr. Carlos EDUARDO Tucci (Group3: Brazil)
Professor, Federal University of Rio Grande do Sul
4. Mr. Keizrul bin Abdullah (Group4:Malaysia)
Former Director General of the Department of Irrigation and Drainage
5. Mr. Mohamed-Bahaa Eldin Ahmed Mohamed Saad (Group5: Egypt)
Emeritus Professor, Hydraulics Research Institute, National Water Research Center
6. Mr. Francis Musyoka Mutua (Group6: Kenya)
Associate Professor, University of Nairobi
7. Mr. Andras Szollosi-Nagy
Representative of the Director General, UNESCO
8. Mr. Avinash C. Tyagi
Director, Climate and Water Department, WMO
9. Mr. Konrad Ostervalder
Rector, United Nations University
10. Mr. Salvano Briceno
Director, UN/ISDR
11. Mr. Richard A. Meganck
Rector, UNESCO-IHE Institute for Water Education
12. Mr. Kenzo Ohshima
Senior Vice- President, Japan International Cooperation Agency (JICA)

13. Mr. Hiroaki Taniguchi
Vice-Minister for Engineering Affairs, Ministry of Land, Infrastructure
and Transport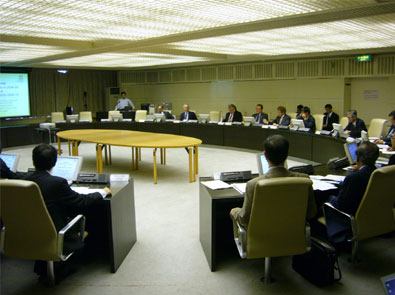 The advisory board meeting is in session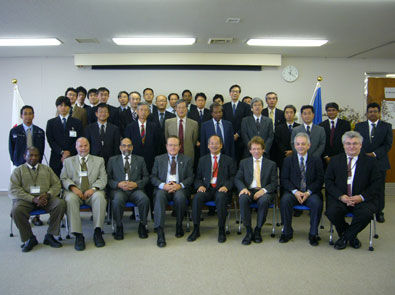 The advisory board members and other participants gather for photos
(Click to enlarge)
3rd IFI AC/MC meeting (2nd October 2008)
The International Flood Initiative was established in 2005 when the World Congress on Disaster Reduction was held at Kobe, Japan, and ICHARM currently serves as its secretariat. IFI is organized mainly by four United Nations agencies, including UNESCO, WMO, UN/ISDR, and the United Nations University (UNU) to provide a platform for the collaboration and coordination of water-related activities to promote integrated flood management.

The third IFI AC/MC meeting was joined also by a representative from the International Association of Hydraulic Engineering and Research in addition to the regular committee members from UNESCO, WMO, UN/ISDR and UNU. The meeting participants exchanged their views on IFI's future strategies and action plan and agreed that they would start planning a special session to publicize the organization at the fifth World Water Forum scheduled in March 2009.
On the previous day (30th Septmber), ICHARM internaional symposium "Local Practices of Integrated Flood Risk Management under Changing Natural and Social Conditions" was also held in Tokyo. Those international simposium and meetings for three consecutive days were great opportunities for ICHARM to make the centre and its activities widely known to the public. Also, insightful comments and advice given for its future activities from a wide range of perspectives helped the ICHARM staff renew their determinations to contribute to the global community through the reduction of water-related disasters. This, however, cannot be done by a single organization alone. ICHARM sincerely ask other organizations both at home and abroad for continued support and cooperation.