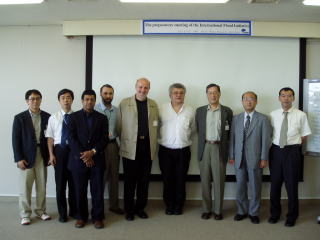 Date: July 12-14,2004
Venue: Public Work Reserach Institiute
Participants:
Dr.Andras Szollosi-nagy (Unesco)
Mr.Yoshiuki Imamura (UNESCO/WAP)
Dr.Slobodan P. Simonovic (Western Ontario Univ.)
Dr.Kuniyoshi Takeuchi (IAHS,Yamanashi Univ.)
Dr.Srikantha Herath (United Nations University)
Mr.Akira Terakawa (PWRI)
Mr.Junichi Yoshitani (PWRI)
Mr. Tetsuya Ikeda (PWRI)
Dr. Tarek Merabtene (PWRI)


The International Flood Initiative/Programme (IFI/P) is promoted by UNESCO, WMO, UNU, IAHS and other organizations.
The preparatory meeting of IFI/P was held at the Public Works Research Institute (PWRI) on July 12-14, 2004, in aim
to discuss the basics of the draft concept paper (tentative), the fundamentals of the programme as well as the concrete
activities foreseen to be developed under IFI/P.
IFI/P is evaluated as one of the core programmes of the International Centre for Water Hazard and Risk Management
(tentative name) to be established inside PWRI under the auspices of UNESCO in autumn 2005.