Newsletter from the UNESCO-PWRI
No.2 November 2004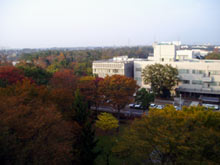 PWRI in Autumn --What's in this issue--
Topics

-A committee to discuss the current trend of downpours-

-JICA's new training course on "Flood Hazard Mapping"-

---
1. The 16th session of the IHP Intergovernmental Council
The 16th session of the IHP Intergovernmental Council was held from September 20 to 24, 2004, at the UNESCO H.Q. (Paris, France). (IHP stands for International Hydrological Programme.)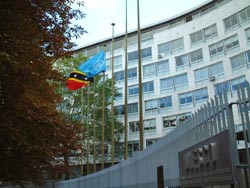 UNESCO H.Q. (Paris, France)At the conference, the future activities of IHP were discussed. The establishment of a number of new UNESCO-IHP centers was also taken up as a part of the reinforcement of relationships among international organizations. On behalf of PWRI, Dr. SAKAMOTO, Mr. TAZOU, Mr. TERAKAWA and Mr. KURIBAYASHI attended the conference and introduced the establishment project for the International Centre for Water Hazard and Risk Management under the auspices of UNESCO (UNESCO-CHARM) (tentative name), which is planned to be established inside PWRI in autumn 2005, and organized various events to help the delegates of the council understand more about the center. For the materials distributed at the conference, please refer to 'Related Documents' on our website.
(1) Presentation about UNESCO-CHARM by Dr. SAKAMOTO
At the beginning of the second day's session, Dr. SAKAMOTO made a presentation about UNESCO-CHARM. He explained the preparatory activities which have been made so far, the planned activities of the center and its future schedule.
After his explanation, 25 countries and 2 international organizations made comments to support the establishment of the center. Dr. SZOLLOSI-NAGY, (Director of Division of Water Science and Deputy Assistant Director General for Natural Sciences, UNESCO) and other participants commented that this was the first time for them to see such overwhelmingly supportive reactions.
Presentation about UNESCO-CHARM by Dr. SAKAMOTO

The Voice from the floor supported the
establishment of the centre positively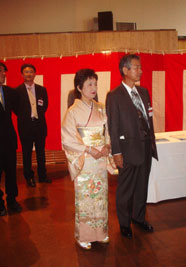 Dr. SAKAMOTO and Mrs. Fumiko
SAKAMOTO
(2) Reception hosted by PWRI
After the first day's session, Dr. SAKAMOTO, Chief Executive of PWRI, hosted a reception party. At the entrance, Dr. SAKAMOTO and his wife, Mrs. Fumiko SAKAMOTO, warmly welcomed the participants. About 250 people participated in the reception and they were satisfied with Japanese foods such as Sushi, Tempura and Japanese sake. The reception was a great success.
One of the participants commented that this was the most impressive reception he ever had in his 34-year-IHP activities.
(3) Side Event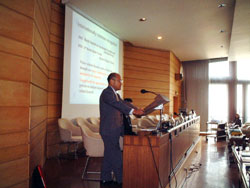 Presentation about UNESCO-CHARM by
Mr. TERAKAWA
During a break time of the second day's session, we held a side event to inform the delegates about the outline of PWRI's activities and the objectives of UNESCO-CHARM. In the event, we made a video presentation about PWRI and Mr. TERAKAWA made a presentation about UNESCO-CHARM. Each participant was served lunch and listened to the presentations in a relaxed manner. We gathered 80 participants and held active discussions about the research activities of the center and its staff recruitment. The 45 minutes allocated to us for the side event including the 20-minute- presentation passed too soon.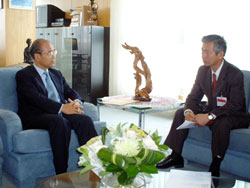 Conversation between Mr. MATSUURA,
Director-General of UNESCO, and Dr. SAKAMOTO
(4) Conversation between Mr. MATSUURA, Director-General of UNESCO, and Dr. SAKAMOTO
At the first day, we visited Mr. Kouichirou MATSUURA, Director-General of UNESCO, and had a conversation about UNESCO-CHARM among other things. Mr. MATSUURA stated that they appointed 'WATER' as a priority area in the science sector of UNESCO and made a commitment to strongly support the establishment of UNESCO-CHARM.
-Epilogue-
On the final day, 21 resolutions were proposed and 6 were finally adopted, including the establishment of UNESCO-CHARM. From now, we are going to carry forward necessary procedures to get the approval of the UNESCO Executive Committee in spring 2005 and get the final and official approval from the 191 UNESCO member countries at the General Conference scheduled in autumn 2005.
Lastly, we would like to express our deepest gratitude to Mr. IMAMURA (from MLIT, Japan) and other Japanese staff members of UNESCO for helping us throughout the sessions.

---
2. Visit the UNESCO-IHE
In the afternoon of September 30, 2004, Mr. Terakawa and Mr. Ikeda visited the UNESCO-IHE (Institute for Water Education) Office in Delft, the Netherlands. The UNESCO-IHE's predecessor, the IHE Delft, established in 1957, was reorganized into a Category 1 center of UNESCO in 2002. (Category 1 centers refer to organizations under the direct control of UNESCO.) The reorganized UNESCO-IHE focuses on "Education, Training and Research" and "Partnership Building and Networking" in the fields of water, and has established strong project-based partnerships/ networks with the other international, regional and national centres or institutes of the world. Also its alumni exceed over 12,000 in 120 countries. We were warmly welcomed by Prof. Richard Meganck, Director of UNESCO-IHE and had a one-hour meeting. Then we looked around such facilities as seminar rooms and laboratories. He expressed his strong willingness to collaborate with a new UNESCO Center in Tsukuba in the future, and kindly proposed us to include the preparatory activities for the new UNESCO Centre in the next UNESO-IHE newsletter, which is now widely distributed all over the world.
| | |
| --- | --- |
| UNESCO-IHE (Delft, Netherlands) | Prof. Richard Meganck, Director of UNESCO-IHE(Left) |

---
3. Topics
- A Committee to discuss the current trend of extreme rain events in Japan -
We have formed a committee in collaboration with the hydrologic engineering research team consisting of specialists and administrative officials in the fields of meteorology and hydrology to examine the current trend of extreme rain events in Japan. We held the second committee meeting on November 4, 2004. This year Japan has so far been hit by 10 typhoons, a new annual typhoon record. Those typhoons caused extremely great damage in many regions of Japan. Although the media reports that statistical data demonstrates an upward trend of the frequency of extreme events, this phenomenon has a variety of interpretations depending on analyzed meteorological data, definition of extreme event and time and spatial scales of consideration. The target of this committee is to discuss freely different interpretations of historical meteorological data between flood managers and meteorological services. We will hold the third committee on December.
- JICA's new training course on "Flood Hazard Mapping" -
We are preparing for the JICA's new training course on "Flood Hazard Mapping", to be conducted in Tsukuba, Japan from January 25, 2005 to February 19, 2005. This training course starts in fiscal 2004, as a regional-focused training course for the East and Southeast Asian countries, and will accept 16 trainees (2 from each country) each year for five years. It is aimed at mitigating flood damages in the Asia monsoon region by providing technical managers and engineers engaged in flood or river management in the public sector with the practical techniques to produce flood hazard maps, and by enhancing their understanding of the map's effectiveness. The curriculum will be composed of lecture courses, grouped field exercises, and site visits to some municipalities and main river management offices. The General Information has already been sent to each country through the JICA offices. We are now recruiting trainees.

---
---
4. Recent activities and future schedule
Conferences We Attended
International Symposium on Living with Risks (Seoul, South Korea)

Date: September 20-23, 2004
Organizer: WMO/UN-ESCAPTyphoon Committee

The objectives of this Symposium include discussion on the progress of "Flood Hazard Map Project" led by MLIT and Infrastructure Development Institute-Japan (IDI), and preparation of a test hazard map in the actual field through "Town-watching". Mr. IKEDA from the Secretariat joined the symposium to introduce a training course on "Flood hazard mapping", which PWRI is now preparing for JICA to start from this fiscal year.
International Conference on "Climate Change: a challenge or a threat forwater management"(Amsterdam, The Netherlands)
Date: September 27-29, 2004
Organizer: International Water Association (IWA)

Mr. IKEDA made a presentation on "Flood management under the climatic variability and its future perspective in Japan". During the conference, the outcomes of research and investigation related to climate change and water resources were presented by the participants from various countries, mostly from the Netherlands. The reported outcomes will serve as a useful reference for the future activities of the new UNESCO Centre.
The first workshop with China Institute of Water Resources and Hydropower Research (IWHR)
Date: October 13, 2004
Organizer: PWRI, IWHR

PWRI and IWHR conducted a research collaboration agreement on February 2003 and started a joint research project on flood management policy on the Chanjiang River. A hydrological model developed mainly by PWRI has been used in a research project at IWHR. At this workshop, assessments of the progress of these projects and discussion on other possible collaboration areas were made. And it was agreed to start information exchange with the International Research and Training Center on Erosion and Sedimentation in Beijing, which is one of seven UNESCO-IHP centers.
The 14th UNESCO-IHP Training Course (Kuala Lumpur, Malaysia)
Date: October 11-15, 2004 Organizer: UNESCO Jakarta Office and Nagoya University The 14th UNESCO-IHP Training Course was held in Kuala Lumpur, Malaysia hosted by the Humid Tropic Center (HTC-KL). More than 40 professionals participated in the course from Asia. This course was composed of two parts. The first one was a lecture session where Mr. Ikeda made a presentation on the planning of the UNESCO-PWRI Centre. In the second part, the lecturers and the participants of the past and current courses reviewed the achievements of the UNESCO-IHP training courses and made discussion to make the training courses more productive.
The 12th Session of the WMO Commission for Hydrology (CHy-XII) (Geneva, Switzerland)
Date: October 19-29, 2004
Organizer: WMO

Mr. TERAKAWA and Mr. YOSHITANI participated in the 12th session of the WMO Commission for Hydrology in Geneva as the Japanese delegation. About 150 professionals from 52 National Hydrological Services and related organizations participated in this quadrennial commission and discussed achievements of the past 4 years and activity plans for next 4 years, including various international programs such as hydrological observation, management of hydrological data and hydrological prediction.
Coming Events
Open house of PWRI & NILIM, 'Civil Engineering Day'
November 20, 2004 9:30-15:00 (reception: until 14:00)
Place: Public Works Research Institute (PWRI), Tsukuba, Japan

PWRI is going to have an open house in collaboration with NILIM (Ministry of Land, Infrastructure and Transport National Institute for Land and Infrastructure Management). We would like to offer you a good opportunity to become familiar with civil engineering technologies. We plan to use a 'Rainfall Experience Car' (belonging to MLIT Kanto Regional Bureau), so that you can experience heavy rain (from 10 to 300mm/hour). You can also get nice presents if you join a stamp rally going around other experimental facilities. Please come to our institute with your family.

For more information click here
International Conference on Water Sensitive Urban Design: Cities as Catchments
November 21-25, 2004
Place: Adelaide, Australia

This conference aims to explore the relationship between WSUD (Water Sensitive Urban Design) principles and the sustainability of urban and regional areas, to learn about recent experiences and to tease out the greatest threats and opportunities that may be specific or common to particular urban settings. Mr. YOSHITANI is planning to introduce the Water Master Plan of the Tsurumi River in Japan as a successful case of integrated water resource management.
International Workshop "Water and Disasters"
December 13-14, 2004
Place: London, Canada

This workshop will provide an interdisciplinary environment to discuss a variety of international, national and local initiatives aimed at minimizing the negative impacts of water-related disasters. One of the sessions will be organized by the Secretariat in cooperation with IFNet and JWF. The output of the conference is going to be introduced at the conference in Kobe next January, see hereafter.

For more information click here
Updated Information of Our Website
"Flood in Changjiang River -Comparison between 1954 and 1998 floods-" -->Seminar Report
Announcement of next issue:
The next issue, to be published around January 2005, will introduce our research activities such as WWAP (World Water Assessment Program).

---
6. Organization of ICHARM and new contact number
At the reorganization of PWRI on 6th March 2006, the Secretariat for Preparatory Activities of UNESCO-PWRI Centre was removed, and the International Centre for Water Hazard and Risk Management under the auspices of UNESCO (ICHARM) was established.
The centre consists of one Group (Water-related Hazard Research Group) and three Teams (International Technical Exchange Team, Disaster Prevention Research Team and Hydrologic Engineering Research Team). New contact numbers and e-mail addresses are as follows:
Information:
This newsletter is distributed via e-mail. It can also be downloaded from PWRI's website. Those of you who wish to subscribe or unsubscribe to our mailing list, please contact us by e-mail. We welcome any comments or requests from you, via e-mail, for making this newsletter more effective and informative one.
Issued by: Secretariat for Preparatory Activities of UNESCO-PWRI Centre,
Public Works Research Institute (PWRI)
1-6 Minamihara Tsukuba Ibaraki 305-8516, Japan
Tel : +81-29-879-6809 Fax : +81-29-879-6709
E-mail: whrm@pwri.go.jp
URL: http://www.unesco.pwri.go.jp/