Newsletter from the UNESCO-PWRI
No.3 January 2005

---
1. Greeting from the Director

As the new year starts, I wish you a happy, healthy, and prosperous New Year.
More than nine months have passed since the Secretariat for Preparatory Activities of UNESCO-PWRI Centre was established at the Public Works Research Institute in April last year. During this period, we have tried to seize all available opportunities such as conferences and meetings to carry out intensive public relations activities of the center. I am glad that the purpose and planned activities of the center gradually came to be recognized by many.
In retrospect, at the International Hydrological Programe(IHP) Bureau meeting in April and the IHP Intergovernmental Council in September last year, many countries gave their blessing to our plan to set up a new UNESCO Category 2 Center. The draft agreement between the Government of Japan and UNESCO has already submitted to UNESCO Secretariat through the Japan Ministry of Foreign Affairs and is now in the process of adjustment, in preparation for the deliberation at the Executive Board of UNESCO which will be held this spring. We will do our utmost to gain official approval from UNESCO member countries at the General Conference this autumn.
Since we launched our web page both in Japanese and English in May 2004, we have been trying to enrich its contents. We would like to make our web page full of useful and interesting contents. We also would like to do our best to keep on publishing the Newsletter distributed via E-mail in English and Japanese once in two months.
Construction of the center office building began last August on the north of the main building of PWRI by renovating the existing laboratory complex, which will be completed this autumn. We hope to prepare a comfortable environment for researchers.
Last year Japan was hit by ten typhoons, approximately three times higher than yearly average. Together with heavy rains brought about by seasonal rain-fronts, these typhoons caused extreme damages in various regions in Japan. With regard to landslide disasters triggered by the 6.8-magnitude quake centered in Mid Niigata Prefecture, Japan, which occurred in the evening of October 23, 2004, great efforts have been made for restoration activities. However, many victims are still forced to live in shelters or temporary houses. It was the day after I talked, at the technical session of the Commission for Hydrology of World Meteorological Organization(WMO) held in Geneva, Japan has achieved nation-building and development by overcoming various natural disasters such as floods and earthquakes, that images of floods caused by typhoon No.23 were broadcasted on TV in Geneva. Furthermore, two days later, the serious damage caused by Mid Niigata Earthquake was also reported on television. I still remember well that participants of the Commission from various countries offered me words of sympathy for the victims of the disaster. It was just two months later that a tremendous earthquake hit Smatra island and caused the unheard of tsunami disaster to the surrounding countries. I heartily recognized the importance of the international community to support countries in the face of threats of natural disasters which can devastate lives and properties in a moment.
Lastly, I sincerely would like to ask for your kind support and cooperation to achieve our goal to set up the center.
Director of the Secretariat Akira TERAKAWA


Research Activity -Part1
-World Water Assessment Programme (WWAP)
Background of WWAP
The need for continuous monitoring and assessing the situation of the freshwater worldwide has gradually evolved as a result of a number of major conferences and fora (see: Water Milestones 1972-2003: from Stockholm to Kyoto). To ensure a continuous collective UN system-wide assessment process, the World Water Assessment Programme (WWAP) was launched in March 2000. The World Water Development Report (WWDR), the primary output of the WWAP, was first released in 2003 during the 3rd World Water Forum in Japan. WWDR includes thematic and methodological case study, water information and capacity building components.
Japan's Contribution to WWAP
One of the most original aspects of the first edition of the World Water Development Report (WWDR - Water for people Water for life -) is its use of case studies as a testing ground for new methodologies. Japan, represented by the Ministry of Land, Infrastructure and Transport (MLIT), has contributed to the first edition of the WWDR by the Greater Tokyo case study( Read the complete case study in pdf format).
The second edition of the World Water Development Report (WWDR-II), to be published during the 4th World Water Forum in Mexico in March 2006, will focus on water-related governance issues. Japan is also participating in WWDR-II and introduces its achievements in enforcement of policies and management of water resources (Japan Case Study for WWDR-II).
Our Role in WWAP
WWDR-II is comprised of 11 challenges formulated by the UN's World Water Assessment Programme (WWAP). One of these challenges is Managing Risk which includes, as a major component, the development of water-related risk indicators. The first UN-Water Coordinating Group Meeting on Indicators was held on 17 and 18 November, 2003 and a member of PWRI attended it. Mr.Yoshitani and Dr. Merabtene were nominated a member of the Expert Group on Risk Challenge Indicators lead by WMO and International Strategy for Disaster Reduction (ISDR). To endorse research in this direction, we are undertaking a research project to develop a new risk indicator to assess the effectiveness of adopted policies in flood mitigation. Our proposed Risk Index and related indicators have received wide recognition from all the UN agencies and professionals involved in the process of editing the second World Water Development Report (WWDR-II). The technical aspect of our Risk Index will be introduced in the 4th edition of our newsletter.
In February 2005, we will host the 3rd Expert Group Workshop on Risk Indicators Development. Experts from PWRI, WWAP Secretariat at UNESCO Paris, WMO, UN, ISDR and other world experts will attend the workshop.

Research Activity-Part2
-Flood Mitigation Policy Analysis of the Changjiang River basin-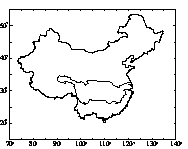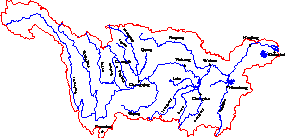 Background
This research is a part of the research project -'Sustainable water policy scenarios for river basins with rapidly increasing population'-, started in October 2003. The project is one of the Core Research for Evolutional Science and Technology(CREST) research projects which are funded by Japan Science and Technology Agency(JST). We are executing the research in collaboration with the China Institute of Water Resources and Hydropower Research(IWHR).
Research Approach
During the historical flood of 1998, water leve1s were higher than those of the 1954 flood (the highest water level of the1954 flood is the design standard for the flood prevention system), although peak discharge of the 1998 flood was less than that of 1954 flood (The characteristics of 1954 and 1998 floods can be seen more in detail here). Thus, the risk of flood damage was very high, and the Government of China reviewed its flood prevention policy and proclaimed a new policy.
In the new policy, there are three land management regulations: 1) enclosing mountains and planting trees, 2) transforming arable lands into forests, and 3) converting polders into lakes and using lakes as retarding basins. Among these three policies, number 3 is in process around Dongting Lake and Poyang Lake region. We especially pay attention to the Dongting Lake region.
From 1954 to 1971, the water surface area in Dongting Lake was reduced from 3,915km2 to 2,820km2. The main reason of this decrease is attributed to the agricultural policy of the Government of China designed to increase the arable land to feed its increasing population. However, frequency of floods around the region increased drastically. In this context, the government took the abovementioned policy.
In practice, the government took two ways of converting polders into lakes. These are called 'single retreat' and 'double retreat'. 'Single retreat' is referred to the relocation of residents while agricultural lands in the polders are remained to be used. 'Double retreat' is referred to the relocation of both residents and agricultural lands. Under the 'single retreat' approach, agricultural lands are planned to be inundated by about 10 year return periods flood. Thus, every time agricultural lands are inundated, compensation is made. On the contrary, in case of 'double retreat', compensation is made only when residents relocate. Now, we are analyzing success factors of this policy by examining details of the compensation scheme.

---
Recent Topic
-An Awareness Survey on Heavy Rainfall Disaster by Using 'rainfall generator'-
Outline of the Event

On 20th November 2004, PWRI organized its open house in collaboration with NILIM (Ministry of Land, Infrastructure and Transport National Institute for Land and Infrastructure Management).

UNESCO-PWRI Centre and the hydrologic engineering team exhibited a special rainfall generator mounted on a truck (rented from Kanto Regional Technology office, MLIT), to offer the public an opportunity to experience the threat of typhoon-fed heavy rainfall. As Japan was hit by a record ten typhoons which caused extensive damage in 2004, participants showed high interest in the rain simulation in which they wore special water-proof rain coats. The number of participants, both adults and children, was much larger than we had expected. A total of 273 people experienced the rain simulation and the staff was very busy in attending to the participants. We carried out a consciousness survey on rainfall by questionnaire. The purpose of the survey was to confirm whether ordinary people recognize properly the relationship between heavy rainfall and resulting disaster that may occur.
Consciousness Survey on Rainfall
Purpose
The rain simulator makes artificial rainfall at up to 300 mm per hour. In the real world, disasters can often occur with a lower precipitation when combined with heavy rainfall at the upstream of the river basin. Therefore it is important to acquire the latest weather information of wide areas.
We conducted this survey with the aim of understanding 1) whether ordinary people know that real disasters may occur with lower precipitation or not, 2) whether the 'Rain-Car' can be used to raise the consciousness about water-related disasters caused by smaller rainfall, and 3) how people get weather information during heavy rainfall.
Results
The number of respondents to the questionnaire survey was 210 (77% of the total of participants). 79% live in Tsukuba and the 37% were under ten years old.
The questionnaire consisted of four questions.
Question 1: With how much precipitation did you get scared?
Question 2: How much was the maximum precipitation per hour recorded in Sanjo city, Niigata prefecture, in July 2004?
Question 3: From where do you get weather information when it is likely to rain heavily?
Question 4: Please fill in your impressions about the rain generator.
The results of the survey are depicted in the figures.
Conclusions
For question 1, most people chose 'not scary' and for question 4 those who answered 'enjoyable/interesting' and those who replied' rain was scary or heavy/' were nearly the same numbers. And a considerable number of people answered that the artificial rainfalls they experienced were less terrible or serious than they had imagined.
Judging from this result, the experience of the rain simulation may not raise the consciousness of ordinary people on heavy rainfall. >From the result of question 2 it is clear that we need to further disseminate the risk of disasters that might occur as a result of lower rainfalls than people commonly imagine.
As for the result of question 3, most participants acquire the information about heavy rainfall from TV, while those who obtain the information from specialized websites or cell-phone websites accounted for only 7%.
On the spot, we explained about recent technologies to get real-time precipitation data by radar rain gauge systems, translated into practical use by PWRI and currently published on our website. Our center plans to transfer such technologies to developing countries.
At present, for more information about disaster prevention, visit the websites listed below:
http://www.bosaijoho.go.jp/
http://www.bosaijoho.go.jp/i-index.html(by cell phone)
http://www.river.go.jp/
http://i.river.go.jp/cgi-ippan/title.sh(by cell phone)
http://www.jma.go.jp/JMA_HP/jma/index.html
In the future, it will be important to disseminate risk information properly to the public in more clear and accessible ways and to raise the consciousness about disaster prevention.
Survey result: Question 1

not terribleˇ8%, 200mm/hˇ9%, 100mm/hˇ8%, 40mm/hˇ%

Survey result:Question 2
over 100mm/hˇ5%, 50-100mm/hˇ4%, under 50mm/hˇ%
| | |
| --- | --- |
| Survey result:Question 3 | Survey result:Question 4 |

---
Recent Activities and Future Schedule
Conferences Attended
International Conference on Advances in Integrated Mekong River Management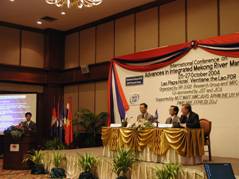 Opening: Prof. Kuniyoshi Takeuchi, RR2002
leader, H.E.Mr. Makoto Katsura, Ambassador
to Embassy of Japan, Lao PDR, Mr. Olivier
Cogels, CEO, Mekong River Commission
from the left on the podium
PWRI co-organized the "International Conference on Advances in Integrated Mekong River Management" from November 24 to 27, 2004 at Lao Plaza Hotel, Vientiane, the Lao People's Democratic Republic as a member of the Japanese Research Revolution 2002 project (RR2002) team. Mr. Yoshitani served on the Scientific Committee of this conference. As a session of the conference, forum discussion focused on the importance of interpretation between scientists as model developers and government engineers who would use a model as decision support. CHARM(Center for Hazard and Risk Management) is expected to serve as bridge between the two through capabilities of research, training, and information networking.
For more details, visit http://unesco.pwri.go.jp.
---
Preparatory Meeting on International Flood Initiative/Program (IFI/P)
The taskforce members met at the University of Western Ontario, Canada on February 9-10, 2004 and revised the draft concept paper of IFI/P written in Tsukuba and formed an action plan. The following 5 focal areas were selected as the area of activity: People centred early warning and emergency management; Flood risk assessment; Vulnerability; Governance and Public Participation; and Capacity Building and technical assistance.
---
International Workshop on "Water and Disasters"
The international workshop was held from 13th to 14th of December 2004, organized by the Institute for Catastrophic Loss Reduction (ICLR) of the University of West Ontario, London, Canada. PWRI co-organized the session of "Flood Control and Mitigation Measures" in association with IFNet and Japan Water Forum (JWF), which was chaired by Mr. Yoshitani. For more details, visit http://unesco.pwri.go.jp
---
Future Event
World Conference on Disaster Reduction
The World Conference on Disaster Reduction (WCDR) is a milestone in the world attempt of increasing the profile of disaster risk reduction in formation and implementation of development projects. We are going to participate in the session on integrated flood risk management organized by MLIT, WMO and Australia Bureau of Meteorology(BOM) and the session on international collaboration for reducing disaster by floods and landslides organized by UNESCO.

---
6. Organization of ICHARM and new contact number
At the reorganization of PWRI on 6th March 2006, the Secretariat for Preparatory Activities of UNESCO-PWRI Centre was removed, and the International Centre for Water Hazard and Risk Management under the auspices of UNESCO (ICHARM) was established.
The centre consists of one Group (Water-related Hazard Research Group) and three Teams (International Technical Exchange Team, Disaster Prevention Research Team and Hydrologic Engineering Research Team). New contact numbers and e-mail addresses are as follows:
Information:
This newsletter is distributed via e-mail. It can also be downloaded from PWRI's website. Those of you who wish to subscribe or unsubscribe to our mailing list, please contact us by e-mail. We welcome any comments or requests from you, via e-mail, for making this newsletter more effective and informative one.
Issued by: Secretariat for Preparatory Activities of UNESCO-PWRI Centre,
Public Works Research Institute (PWRI)
1-6 Minamihara Tsukuba Ibaraki 305-8516, Japan
Tel : +81-29-879-6809 Fax : +81-29-879-6709
E-mail: whrm@pwri.go.jp
URL: http://www.unesco.pwri.go.jp/