ICHARM Newsletter

International Centre for Water Hazard and
Risk Management under the auspices of UNESCO




Vol.1-No.2 August 2006

In our periodical newsletter, we continue our focus on providing our national and international partners and colleagues with up-to-date information on the progress of our activities at ICHARM. (Click here for back numbers of UNESCO-PWRI newsletters)
1. Message from Dr. Takeuchi, Director of ICHARM
First of all, I would like to express my deepest sympathy to the victims of Tsunami in West Java Island, also to the victims of Flood and Land Slide disasters in China, Vietnam, Philippines, Korea, and central/western Japan. Especially in the case of Tsunami in Pangandaran and West Java, one of the reasons behind such destruction was due to the delayed issuance of the forecast and warning systems. Therefore, we think, it would better if ICHARM could take part in the approach to resolve the issue. ICHARM has initiated highly motivated efforts comprising full-scale activity since its establishment on 6th March this year. We have taken a big step towards new plans as well as reinforcing the cooperative structure and on-going activities such as a training course on Hazard Maping, Research & Development in flood forecast and warning systems.
It is really noteworthy that the people from various fields took part and set-up a cooperative structure to strengthen the long term domestic support system, especially the Ministry of Land, Infrastructure and Transport played a central role. We invited domestic professionals to attend the establishment commemorative symposium "Towards Global Water Related Disaster Reduction" on 10 May, 2006 at the United Nation University conference hall. There were about 80 participants, who were mainly interested in international cooperation related activities and gave us various opinions on the aims and objectives of ICHARM. In addition, the International Strategy Investigative Commission was established in the River Bureau on 27 April, 2006. It has already started to consider the things in a comprehensive manner, taking ICHARM as an active player to achieve the mission. They are now jointly working for the development of integrated international strategies for water induced disasters mitigation. Common study sessions are opened for internationally experienced professionals once in a month. Previous sessions of April 5th, May 23rd , June 22nd and July 26th were filled with enthusiasms and ICHARM is working a lot in order to do its best to meet the expectations of participants.
There was a 17th IHP (International Hydrological Program) Intergovernmental Council Meeting, from July 3rd to 7th at the UNESCO headquarter in Paris and ICHARM was represented by myself, as a chairperson of Japan National IHP Committee, and Mr. Terakawa. ICHARM was repeatedly quoted in various types of reports as one of the key elements in IHP activities of the past 2 years. As a consequence, ICHARM was successful to draw big attention and to receive cooperative offers. Especially, the proposals for collaboration from the Flood Directive of EU, Yangtze River committee of China, Indian National Hydrological Research Institute, and U.S. Army Corps of Engineers' Institute for Water Resources are modestly expected to expand our activities into the wider international arena. Right after the first day's morning meeting with U.S. Army Corps of Engineers' Institute for Water Resources, memorandum signing ceremony about comprehensive research partnership was taken place in presence of delegates at convention hall between me (ICHARM) and Mr. Pietrowsky (IWR, USACE). In the board meeting, 6 people from all over the world were elected to the advisory board members of ICHARM and additional 7 people, who were nominated by the board chairman Dr. Tadahiko Sakamoto, were assigned to the committee. On the 15th September 2006, the advisory board meeting will be held, where we expect vigorous advices for the betterment of ICHARM's performances as a global leader in the sector.
On 30, June and 2, July, Kovacs Colloquium (symposium) "Frontier of Flood Research", which was co-hosted by IAHS and UNESCO, was also held at UNESCO headquarter. At this symposium, we have presented the action policy of ICHARM under the title "Call for an Alliance for Localism" and firmly stated a resolution of Localism with eager to work on realities of the people facing the risk of water related disasters. The Localism is the policy that is coming out from everyone's common perception through several practices. It has mentioned that causes and results of water disasters could entirely be different from place to place and countries to countries. Therefore, we need to be aware of the diversity correctly and should have implemented activities accordingly, which can truly serve the real need of concerned people. A simple idea is that the problems can be solved by diffusion of universal skills and the establishment should be rebuked. We would like to make it as an image of ICHARM that we think in the same way that people in crisis do. As for the discussion on the ICHARM activities in the advisory board meeting on 15 September, we would like to focus on the issues of Localism.
This July, 2 new staff members are internationally recruited, and now there are 4 international staffs in total. In addition, we are preparing to recruit additional 6 international staffs. ICHARM's official opening ceremony and commemorative symposium "Alliance for Localism" will be held at the United Nation University on 14, September 2006 and I would greatly appreciate your participation. I am truly grateful for having your continuous supports.

Dr.Kuniyoshi TAKEUCHI
Director of ICHARM
---
(Latest Activities etc.)

2. Opening Ceremony of ICHARM and Commemorative Symposium is planned to be held in Tokyo on Sept. 14
Official Opening Ceremony of ICHARM and Commemorative Symposium would be held on September 14 (Thursday), 2006 at United Nations University (http://www.unu.edu/index.htm), Shibuya, Tokyo. The Ceremony starts on 10:00 which would be followed by the Symposium from 11:10 - 18:00. Anyone who have concern in the activities to promote mitigating water related disasters in the world are heartily welcome to participate in the event, free of charge with registration in advance for preparation. Details of the event programme is to be shown on the Home Page of ICHARM (http://www.icharm.pwri.go.jp).

---
Dr. Rabindra Osti
(International Technical Exchange Team)

Dr. Rabindra Osti, Nepalese nationality, joined ICHARM in June 2006 as a researcher for International Technical Exchange Team. Prior to joining ICHARM, Osti was a post-doc fellow at Ritsumeikan University, Japan. Osti undertook his PhD at Ritsumeikan University in Civil Engineering, focusing on sediment related disasters especially landslides and debris-flows and their control measures that appropriate for steep mountain regions. He completed his master degree from Lueneburg University, Germany in 'Water Resources Management in Tropical and sub-Tropical Regions' under DAAD scheme. He has also been involving in application related researches in water resources and water related disaster management, which includes project implementation, community-based disaster management, community participation, socioeconomic aspects of water related disasters, agency's roles etc. especially in the context of developing countries. He has some years of working experience with one of UNDP Nepal's projects committed for rural community development. In his early career stage, he was involved in consulting as well as public works in Nepal. In addition to other assigned responsibilities, Osti's research work at ICHARM will address the critical need for assessment of the effectiveness and performance of Flood Hazard Maps to reduce the impact of potential flood disasters, and research for the Issue toward promotion of dissemination in Flood Hazard Map in developing countries.




Dr. Rabindra Osti

Dr. Prasantha Hapuarachchi

Dr. Prasantha Hapuarachchi
(Hydrologic Engineering Team)

Dr. Prasantha Hapuarachchi (usually called as Hapu) joined ICHARM in July 2006 as a researcher for Hydrologic Engineering Team. He was born in a small town, Kuliyapitiya in the North Western Province of Sri Lanka. After completing his high school studies at the Maliyadeva College, he joined the Peoples Bank of Sri Lanka in 1991 and worked for two years. During his college time, he was interested in sports, music and scouting. He entered the University of Peradeniya, Sri Lanka in 1993 as a Civil Engineering undergraduate and during this period, he was involved in many societal activities and sports apart from academic activities. Following the completion of undergraduate degree in 1997, he worked for the University as an instructor for one year. Then he joined a structural design firm, Nanayakkara Associates, as a design engineer. At the Nanayakkara Associates, he was involved in designing and supervising a hotel complex where he could gain a lot of practical experience. In September 1998, he got a UNESCO scholarship to do his higher studies at the Hohai University, China in the field of Water Resources and Environmental Engineering. His research was focused on application of evolutionary algorithms for calibrating hydrological models. Following the completion of master degree in 2000, the scholarship was extended for a doctoral degree and supported by the China Scholarship Council. During his doctoral candidature, he mainly focused on distributed hydrological modeling and flood forecasting via GIS aided techniques and data. After completing the doctoral degree, he joined the University of Yamanashi, Japan as a postdoctoral researcher in December 2003. At the University of Yamanashi, he was involved in watershed modeling (modeling two large river basins, Mekong River and Yellow River) and managing an online learning system, "Virtual Academy". In July, 2006 he joined the ICHARM and currently working as a researcher.

---
4. ICHARM's Inauguration Commemorative Symposium

On May 10th in 2006, we held ICHARM's Inauguration Commemorative Symposium entitled "Towards Global Water Induced Disaster Reduction - Cooperating through ICHARM-" at United Nations University (http://www.unu.edu/index.htm). Participants of this symposium were mostly from universities, private companies, independent organizations and foundations those working in various fields such as disaster prevention, water management, agriculture, meteorology, construction, insurance, marine etc. Opinions were exchanged among participants, which were 80 in numbers.

In the former part of the symposium, members of ICHARM introduced summary reports on ICHARM, its action plan and its implementation process. Specific issues on immediate actions were elucidated by the director of the centre Professor Kuniyoshi Takeuchi. In the later part, we held a panel discussion moderated by Professor Kaoru Takara, a vice president of the Disaster Prevention Research Institute (DPRI), Kyoto University. In this discussion, we exchanged opinions from broad horizon on the issues concerning what should ICHARM undertake and what should be expected for reducing recurrent water disasters worldwide. Many interesting ideas were suggested and they are summarized below.

Initiation of needs driven approach is essential to characterize ICHARM's activities.
Disaster prevention techniques developed in Japan are suitable only for domestic use; so it is required to customize such techniques thereby make them fit in other conditions in respective countries. Research will be needed to achieve this ambition.
It is important to know that how to determine the needs of a particular area from the view point of disaster prevention.
Combining needs assessment and resources assessment, proper needs should be determined with consideration of realization potential all the time.
Implementation of comprehensive risk management needs knowledge and experience in a broad range of fields; therefore alliance between ICHARM and related institutions is imperative. Meanwhile, there would be a need to establish an effective mechanism that bonds those institutions. It is also important for ICHARM to develop a wide range of human resources and play an active role in the processes.
Response of community to solve the problems in a local arena is also important.
It is noteworthy to work closely with various related organizations in connection with training operation, database building and field inspection.

In the meantime, we received specific suggestions from audiences regarding possible coordination with organizations.


Active discussion was done by about 70 participants




---
5. Town Watching in Kurihashi Town

From June 6 to 9, 2006, we held a training course on Flood Hazard Mapping (FHM) for the trainees from overseas. This training module executed by ICHARM was a component of training course namely 'Disaster Mitigation, Preparedness and Restoration of infrastructure' formerly managed by the Japan Construction Training Center (JCTC) on request from Japan International Cooperation Agency (JICA). Eight trainees were from seven different countries, which were Algeria, Grenada, Maldives, Nepal, Nicaragua, Sri Lanka and Thailand. In this training, trainees gained practical knowledge from 'Town Watching' in Kurihashi city of Saitama prefecture, where FHM has been in practice. Especially, Town-Watching helped them to better orient on several important aspects that they should focus while making FHM in their own country.

First day, they learned the purposes of FHM and summary history of FHM in Japan through lecture. At the beginning of the second day, professor Yujiro Ogawa from Fuji-Tokoha University gave a lecture on the meaning of town watching and on the points that they should have paid attention while conducting Town Watching. Later, they went to Kurihashi town and attended a brief explanation session by public officers at Tone River Upper Reaches Work Office on the flood past records and the latest flood forecasting system in Tone River. In the afternoon, they performed a Town Watching in three independent groups, each assisted by Japanese speaking staffs. In this practice, they explored the effectiveness of FHM distribution, people's awareness on crisis and public views through interviews directly with residents, while having discussion on issues such as availability and suitability of evacuation points, routes and signboards. Third day was allocated for group discussion and report preparation on related problems and potential solutions that they found during Town Watching in Kurihashi Town. Last day, each group gave presentation on their reports and shared the opinions among other groups about problems and solutions regarding evacuation points, evacuation routes and residents' awareness etc. This program provided an opportunity to each trainee to think what they have to pay attention when they make FHM in their own country, comparing Japanese conditions.


Town watching and presentation of discussion result

---

6. Planned Collaboration with the Philippines


ICHARM has been exchanging views and directions of flood mitigation in the Philippines with the Japan International Corporations Agency, the Flood Control and Sabo Engineering Center (FCSEC) of the Philippine Department of Public Works and Highways, and other related agencies. The Philippines has been constantly subjected to disasters and calamities caused by destructive typhoons and monsoons. According to the Office of Civil Defense and National Disaster Coordinating Council, during the past 24 years (1980-2003), the flood casualty reached over 42,000 people while the economic damage amounted to over 188 billion pesos. The government of the Philippines has put a lot of resources to construct fully contiguous levee systems to protect flood prone areas. However, due to the limited appropriation and technical background, damaged levees have been left as they are. The government is currently shifting its emphasis to maintenance/rehabilitation of existing structures and smaller-scale projects such as spot protection by the polder system. ICHARM intends to continue dialogue to effectively design ICHARM's technical cooperation to the Philippines.

| | |
| --- | --- |
| Example of an eroded levee | Casualty by flood in the Philippines from 1980-2003 (after FCSEC) |

---


Dr. Fumio YOSHINO

7. The late Dr. Fumio YOSHINO was conferred on the Special Distinguished Service Award of the Japan Society of Hydrology & Water Resources (May 2nd, 2006 Tokyo, Japan)
The late Dr. Fumio YOSHINO, who used to work for the former Hydrology Division of the former Public Works Research Institute (PWRI) of the Japanese former Ministry of Construction for a long time, was given the Special Distinguished Service Award of the Japan Society of Hydrology & Water Resources last May. The reason of the award is "his long contribution to the activities of the Japan Society of Hydrology & Water Resources (JSHWR) and to the establishment of radar hydrology". The late Dr. Fumio YOSHINO had worked as the chief of the Hydrology Division of the former PWRI, the predecessor of the Hydrologic Engineering Research Team of ICHARM, from 1981 to 1990. During that time, he promoted actively researches on the development of precipitation monitoring & forecasting by conventional meteorological radars and one of the most advanced studies in the world at that time on the improvement of the accuracy of precipitation observation and identification of hydrometeors with a C-band dual linear polarization doppler radar (DND radar), the details of which were described in his last book titled "Radar Hydrology", issued in 2002 by the Morikita Publishing Co., Ltd. He contributed to the JSHWR's activities as well for a long time as a vice president of JSHWR, a Councilor, etc. It is to be regretted that he passed away in 2004, aged 61. Prof. Shuichi IKEBUCHI, the president of JSHWR, gave a certificate of commendation and a gift of money to the late Dr.Yoshino's son, Mr. Yasuaki YOSHINO in the award ceremony at the University of Tokyo on 2th May, 2006.

---
(Reports on Participation in International Conferences)
8. Flash Flood Workshop (March 13-17, 2006 San José, Costa Rica)


The main objective of this workshop, organized by World Meteorological Organization (WMO) and U.S. National Oceanic & Atmospheric Administration (NOAA), was to provide the latest information of current research and result of its application on actual site related to flash flood prediction capabilities that is applicable in flash flood prone regions in many countries. Case studies introduced here covered; from disaster prevention activities for local community that can be conducted by residents in flood hazard area to most advanced research of risk assessment by satellite information. Workshop organizer, the World Meteorological Organization requested Mr. Fuakmi to provide a case and experience of flood forecasting/warning system and its effectiveness in Japan and he gave a presentation titled "Warning the population at risk - Experiences in Japan -". For drafting the workshop report, he pointed out the importance of effort for the improvement of time-spatial resolution and accuracy of real-time rainfall observation products by satellites.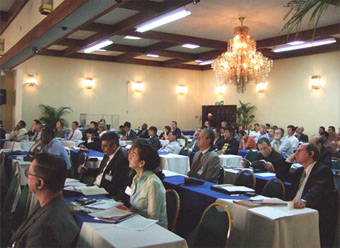 Participants of the workshop

---

9. Science Council of Asia 2006 (April 18, 2006 New Delih, India)


The department of hydrology of Indian Institute of Technology, Roorkee, India has expressed interest in collaboration of ICHARM in conducting research, education and capacity building in the Indian subcontinent. Dr. Assela Pathirana, Research Scientist at ICHARM visited IIT Roorkee during April, 2006, while attending the Science Council of Asia 2006 sessions in New Delhi.

During the visit he met with the members of the department of Civil Engineering and exchanged information on the two institutions and on possible collaborative programs. He also delivered a lecture to the graduate students of the department on the invitation of the head of the department Prof. N.K. Goel.

During the Science council of Asia sessions Dr. Pathirana delivered a lecture introducing the activities of ICHARM to the scientific community of Asia.


In the Roorkee

---

10. Conference on Innovative Technologies in the Water Sector (May 16, 2006 Rotterdam, Netherlands)


A conference on 'Innovative Technologies in the Water Sector', hosted by the Netherlands Office of Science and Technology, was held on May 16 at the World Trade Center in Rotterdam, the Netherlands. Mr. Terakawa from ICHARM and Mr. Ohgi from Japan Water Agency were invited by the Dutch Government to participate in the conference from Japan. It was held to continue collective efforts initiated last June by the launch of an intergovernmental meeting in the field of water management between Japan and the Netherlands and to further promote bilateral technological exchange in the water sector. Mr. Terakawa made a presentation entitled "Comprehensive Flood Risk Management in Urbanized River Basins in Japan" in the session on Water Protection and Security. Questions and comments were exchanged among presenters and participants from various countries, such as the Netherlands, the U.S., Italy, France, Germany, China, etc.


An Exhibition was held in the hall adjacent to the conference room

---
11. 4th Mekong Annual Flood Forum (May 18-19, 2006 Siem Reap, Cambodia)

This year's third Annual Mekong Flood Forum, under the sub-theme of "Improving Flood Forecasting and Warning Systems for Flood Management and Mitigation in the Lower Mekong Basin", introduced latest research cases of accuracy improvement of flood forecasting/ warning in developing countries as well as last year's flood events in Mekong River and characteristics of damages by those events and current activities towards damage mitigation. Mr. Fukami participated in this forum and presented "Potential Alternatives for Key Technologies to Improve the Accuracy and the Lead-Time of Flood Forecasting in the Mekong River" to introduce research activities related to flood forecasting/ warning in ICHARM. His presentation included reports about the achievements and ongoing projects based on collaborative researches among ICHARM, Japan Aerospace Exploration Agency (JAXA), University of California at Davis (UCD) and some Japanese private consultant firms. He also took part in the poster session and introduced ICHARM's various activities for the mitigation of water-related disasters in the world.

Opening ceremony of the 4th Annual Mekong Forum

---



12. Symposium on Multi-Hazard Early Warning Systems for Integrated Disaster Risk Management (May 23-24, 2006 Genève, Switzerland)

Mr. Fukami participated in this symposium as a representative of ICHARM and presented "A discussion on flood hazard warning and preparedness -Experiences in Japan-" in the Session 5 "Integration of Risk Information and Early Warnings in Emergency Preparedness, Planning and Response". At the general discussion of the session, he indicated that the responsible organization for each process of early warning should be identified, and that regional organizations, such as the Mekong River Commission, should take important roles in capacity building for techniques related to flood forecasting/warning. He also mentioned that the organization which really needed "multi-hazard approach" was local disaster-prevention communities at hazardous areas such as fire and flood fighting corps in the case of Japan while personnel in charge of disseminating early warning required very advanced expertise in each category of disasters.


Aspect of the symposium

---
| | | |
| --- | --- | --- |
| A regional workshop on mitigation, preparedness and development for Tsunami Early Warning System (TEWS) in Indian Ocean region was held at United Nations Conference Centre, Bangkok, Thailand in 14 -16 June. This was organized by United Nations Inter-Agency Secretariat of the International Strategy for Disaster Reduction (UN/ISDR) in collaboration with United Nations Economic and Social Commission for Asia and the Pacific (UNESCAP) and Intergovernmental Oceanographic Commission (IOC). About 100 participants including three government officials affiliated with the departments of disaster prevention, planning and/or Tsunami Early Earning System from each county of Indian Ocean region took part in the workshop. International Centre for Water Hazard and Risk Management (ICHARM) was represented at the workshop by Mr. Shigenobu Tanaka, principal research engineer of ICHARM, who also gave a note on structural countermeasures against disaster prevention in Japan. In this workshop, discussion was made not only on early warning system but also on overall tsunami disasters as well as other related disasters prevention and management, although most attendees would have expected that the workshop will only focus on TEWS. Participants showed interests in the presentation and gave complimentary reactions to the understandings of the problems of structural prevention measures and disaster prevention awareness. | Aspect of the Regional Workshop | |

---



14. The 17TH UNESCO-IHP Intergovernmental Council (July 3-7, 2006 Paris, France)

The 17th session of the UNESCO-IHP Intergovernmental Council was held on July 3-7 at the UNESCO Headquarters in Paris, France. Mr. Takeuchi, Director of ICHARM, and Mr. Terakawa participated in the meeting as a part of representatives from Japan.

Among the participants were the 35 Member States of the Council, 38 observer states, and 14 organizations. In the meeting, reports were made on a wide range of issues, such as progress in the implementation of the on-going 5-year plan as well as the formulation of the next 5-year plan, the activities of the existing UNESCO centres including ICHARM, cooperation with other UN agencies and non-governmental organizations, and were followed by discussions.

Also, of the ICHARM advisory board members, the following six were elected as IHP regional representatives by the Council:

(Group1: Northern America & Western Europe) Mr. Eugine Stakhiv (USA)
(Group2: Russia & Eastern Europe) Mr. Maciej Zalewski (Poland)
(Group3: Latin America & the Caribbean) Mr. Carlos Tucci (Brazil)
(Group4: Asia & Oceania) Mr. Mohamed Kahlown (Pakistan)
(Group5: Africa) Mr. Abon Amani (Niger)
(Group6: Arab States) Mr. Anwar Jiries (Jordan)

The resolution adopted on July 7 after the 4-day Council meeting includes:

Strategic enhancement of cooperative ties among the existing water-related UNESCO centers as well as incorporation of such activities into the next 5-year-plan (2008-2013).
Promotion of joint activities involving various international organizations and programs, including ICHARM, in mitigating the risk water-related disasters, in response to the recently increasing number of them.


The UNESCO-IHP Intergovernmental Council




---
Information

I CHARM newsletters are distributed via e-mail. They can also be downloaded from our website. To subscribe or unsubscribe to our mailinglist, please contact us via e-mail. We welcome any comments or requests from you to help us make this newsletter more effective and informative.

Issued by: International Centre for Water Hazard and Risk Management under the auspices of UNESCO (ICHARM)

1-6 Minamihara Tsukuba Ibaraki 305-8516, Japan Tel: +81-29-879-6809 Fax: +81-29-879-6709

e-mail:

icharm@pwri.go.jp

URL:

http://www.icharm.pwri.go.jp/