A proposal for the use of snowplows in seasons without snow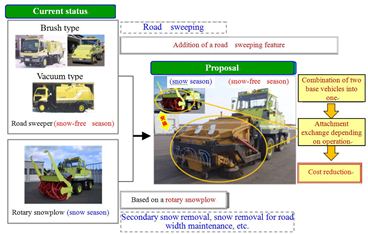 Cost reduction overview
(click to enlarge)

Sweeping with the attachment-type
equipment (prototype)(click to enlarge)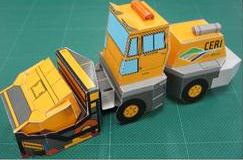 Attachment-type road sweeper
(for rotary snowplow ) [yellow (369 KB)]
Cardboard model of the proposed equipment
Download the template to make the model!
Overview of road maintenance and the proposal
 Due to budgetary constraints imposed in recent years, there is a need to further reduce costs in connection to the machinery used by road administrators for safety/reliability-related route maintenance (such as road sweepers to sweep roads in snow-free season and rotary snowplows to remove snow and maintain road width in snow season).
 However, as snow-free season and snow season road maintenance machinery types have different feature, they are each used for around only six months of the year.
 Against this background, the Civil Engineering Research Institute for Cold Region proposes the use of snowplows, which are essential for cold, snowy regions, in snow-free season based on the development of new attachment-type equipment as a cost reduction measure.
Equipment overview
 To enable cost reduction, two special machines are combined to create a single snowplow with a rotary snowplow as the base vehicle. A rotary snow removal device (for snow season) and a newly developed road sweeper (for snow-free season) are provided as interchangeable attachments.
 The results of a prototype test indicated the feasibility of sweeping operations tailored to the shape of the road. Matter collected from the surface was loaded onto a dump truck.
Estimated cost reduction
 Year-round operation of a rotary snowplow using the proposed attachment-type road sweeper is expected to reduce the life-cycle cost (purchase + maintenance + management costs) by approximately 50% and the annual operation cost by approximately 10% as compared to using two different vehicles for current road maintenance.
Web presence
 A brochure with detailed information is provided on the Machinery Technology Research Team's website to publicize this proposal, and a template for a realistic model of the unit can also be downloaded.
(Contact: Machinery Technology Research Team, CERI)