The Manual of Measures against Unsuitable Soil in Hokkaido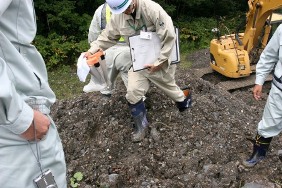 Photo-1
Example of unsuitable soil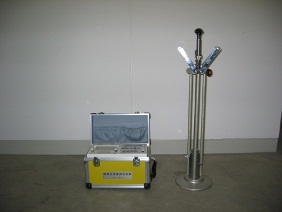 Photo-2
Impact acceleration test
1. Regarding The Manual of Measures against Unsuitable Soil in Hokkaido
The Geotechnical Research Team of the Civil Engineering Research Institute for Cold Region (CERI) published The Manual of Measures against Unsuitable Soil in Hokkaido (draft) in 1985. This manual has been a reference for technical staff of the Hokkaido Regional Development Bureau for the effective use of unsuitable soil generated at construction sites. Such soil cannot be used for road embankments or river embankments without treatment (Photo-1). However, about 30 years has passed since the first year of the publication, and we published a revised edition of the manual in April 2013, since there was much material that needed to be added to the manual. It is a technical standard manual that includes easy-to-understand explanations of unsuitable soil judgment methods, measures against such soil and quality management methods. The manual is used as a guideline for compliance with the Guidelines on Road Design of The Hokkaido Regional Development Bureau of the Ministry of Land, Infrastructure, Transport and Tourism.
2. The manual of measures against unsuitable soil in Hokkaido: contents
This manual introduces ideas that were discussed by the Geotechnical Research Team toward solving technical problems regarding unsuitable soil produced in Hokkaido. The contents are as follows.
For the purpose of mitigating flood damage from a levee breached by overflow or the like, the Civil Engineering Research Institute for Cold Region and the Hokkaido Regional Development Bureau have conducted experiments on a construction method that controls the progress of avulsion, using the full-scale levee at the Chiyoda Experimental Channel on the Tokachi River.
Chapter 1 General remarks
Chapter 2 Unsuitable soil in Hokkaido
Chapter 3 Survey and judgment of unsuitable soil
Chapter 4 Measures against unsuitable soil
Chapter 5 Cement and lime soil stabilization References
3. Revisions to this edition of the manual
This revised edition includes the latest study results and compiles new case examples. It is easy for young engineers to understand. Major revisions are as follows.
1) Methods for determining whether soil is unsuitable mainly involve cone index tests, which express the hardness of soil. 2) For materials that are improved by the addition of stabilizers, we specified the following: quality management methods, based on the results of impact acceleration tests (Photo-2); leaching standards for hexavalent chromium; the usage of materials that are improved by the addition of stabilizers such as crushed solidified soil; and the points that require special attention when materials that are improved by the addition of stabilizers are used in cold regions and the like. 3) We specified measures against acid sulphate soil and a method for determining which soils are acid sulphate soils, since we are asked about it frequently from sites. 4) We proposed possible methods for treating unsuitable soil. These methods cannot yet be practically applied, but they have potential for practical application in the future after additional study.
4. How to obtain the manual
The manual does not exist in hardcopy form. We invite you to download it from our website (in Japanese) (http://jiban.ceri.go.jp/) and to use it.
(Contact: Geotechnical Research Team, the Civil Engineering Research Institute for Cold Region (CERI))
Construction and management of groundwater drainage in landslide measures
As measures against landslides, horizontal water drainage and drainage wells have been adopted to drain groundwater, which is a major factor in landslides. Groundwater drainage works that are installed with horizontal boreholes and groundwater drainage wells are also called "MIZUNUKI." When groundwater drainages are drilled, various detailed measures are taken onsite to control associated problems. To address those problems, PWRI has compiled basic knowledge required for the drilling of groundwater drainage and the items to be controlled during such drilling. Now, it has published a book geared to young engineers.
The book consists of six sections. A Q&A answers 47 common questions. The Q&A provides basic knowledge and items requiring control. To facilitate easy understanding by engineers who have just started to work on groundwater drainage, the guide includes many explanatory photos, illustrations and other figures. In addition, the book has a comprehensive appendix, such as on the machinery and tools necessary for drilling, a list of borehole retaining pipes and a history of associated works.
The 128-page, B5-size book is published by Kashima Institute Publishing Co.,Ltd. It costs 3,400 yen plus consumption tax. The summary report of the "Drain performance investigation of horizontal drainage installed in landslides" was rewritten with easy-to-understand language. That study, which was made by the PWRI in collaboration with eight private companies between 2009 and 2011, revealed the actual conditions of groundwater drainage works, the problems during the drilling of such boreholes, and ways to manage those problems. Great care has been taken so that young engineers and the project orderers can use this book.
For details, please visit the following website (in Japanese):
http://www.pwri.go.jp/team/landslide/kanrisya/groundwater_manual/manual_pablicate_book.htm
(Contact:Landslide Research Team)