ICHARM NEWSLETTER
International Centre for Water Hazard and Risk Management under the auspices of UNESCO

Vol.2-No.1 March, 2007
In our periodical newsletter, we continue our focus on providing our national and international partners and colleagues with up-to-date information on the progress of our activities at ICHARM.
(Click here for back numbers of UNESCO-PWRI newsletters)
The first meeting of the Management Committee and Advisory Committee of the International Flood Initiative (IFI) was held on 26 January 2007 at WMO, Geneva. The draft plan of the IFI was officially adopted and ICHARM started to work as the secretariat of the IFI. It is an honour for us to serve for the IFI activities while feeling a heavy responsibility. It was a long waited meeting since the official launch of the IFI by UNESCO, WMO, ISDR and UNU at the occasion of the UN World Conference on Disaster Reduction (WCDR) in Kobe, January 2005. The Geneva meeting was attended by all the Management Committee members and the major Advisory Committee members, chaired by Bruce Stewart, the Chairperson of Commission of Hydrology, WMO.
The mission statement of IFI reads that "The International Flood Initiative promotes an integrated approach to flood management, at the same time, reducing social, environmental and economic risks that result in and from floods and increasing the benefits from floods and the use of flood plains." It aims to integrate land and water resources development, including the institutional components of flood management, and promote stakeholder participation and cultural diversity. The overall objective of IFI is to build capacities in countries to gain and advocate better understanding and handling of hazards, vulnerabilities and benefits of floods by the following guiding principles: Living with Floods; Equity; Empowered participation; Inter-disciplinarity and trans-sectorality; and International and regional cooperation.
Those objectives and principles of IFI well echo with those of ICHARM. It is our great pleasure to work with many partners sharing the common aims of the IFI. Some concrete commitments were expressed by each partner during the meeting. Among others, ICHARM proposed an idea emerged during the discussion with Japan Water Forum, that is, a concept of "International Standards" that each community may be suggested to prepare for emergency responses to avoid any unexpected extraordinary consequences due to floods. Such standards may serve as an indicator to count the number of communities that become prepared for flood events and monitor the progress of societal preparedness against disasters that can be set as a numerical target and continuously reviewed by World Water Development Report.
Another important commitment ICHARM announced in the meeting was the launch of the Disaster Mitigation Master Course in October 2007 jointly organized with National Graduate Institute for Policy Studies (GRIPS) in the framework of JICA training program. It is a one-year course leading to the Master's Degree on flood management. A limited number of scholarship awardees will be selected on competitive basis by JICA to which ICHARM expresses its deep appreciation. This is a practice oriented master course targeted to the young professionals working in the operational fields of land and water management. We expect enthusiastic practitioners to join the course from various countries in the world.


Dr. Kuniyoshi Takeuchi
Director of ICHARM
---

---

3. Field Survey in Thailand and Cambodia (2006 Dec.10-15, Thailand/Cambodia)
In order to examine the current flood related problems thereby to conduct need assessment of flood hazard mapping, ICHARM has conducted a field survey in Thailand and Cambodia during 10th to 15th December, 2006. In Thailand, 32 provinces were severely attacked by floods this year (2006), leaving 164 people dead and affecting more than 2 million people. In Cambodia, flood caused not extreme damages like in the past, however prolonged turmoil paralyzed the normal life in most flood prone communities. Pursat and Kampong Cham provinces in Cambodia were among the affected areas, where some people also lost their lives.
The main target of this field visit was to collect flood hazard mapping related information through interviews and site inspections, so that the best practicable strategy can be recommended to promote flood hazard mapping in each country. In addition, gathered information is expected to be helpful in developing flood hazard mapping manual for each country. Since the flooding season in this region especially in visited countries lasts in November, the field survey was planned accordingly to match the timing to observe the impact and to collect the damage information of the year. The survey team of ICHARM included 2 members (Dr. Osti and Mr.Tokioka). In Thailand, the team interviewed some engineers in central and regional Royal Irrigation Departments (RID) and visited Sonkhla province and Hat Yai city in the south. In Cambodia, the team interviewed concerned managers at Department of Hydrology and River Works (DHRW) and visited Pre-Veng and Pursat provinces.
Click
here
for detail survey report.

---

4. "The 3rd US-Japan Conference on Flood Control and Water Resources Management"(Jan.28-29, USA)
The 3rd US-Japan Conference on Flood Control and Water Resources management was held in New Orleans on 9th January. Mr. Terakawa, Acting Director of ICHARM, participated in the conference as a member of Japanese delegation headed by Mr. Kadomatsu, Director General of the River Bureau of the Ministry of Land, Infrastructure and Transport (MLIT). The annual conference is alternately hosted by US Army Corps of Engineers (USACE) and MLIT, based on the implementation arrangement between both organizations, which was signed during the Third World Water Forum in Japan in March 2003. As one of the speakers from both sides, Mr. Terakawa made a presentation entitled 'Toward integrated flood risk management - Outline of ICHARM', in which he explained the background and recent activities of ICHARM aiming at functioning to provide and assist implementation of the best practicable strategies for preventing and mitigating water related disasters in the world.
Courtesy visit to Dr. Strock, Commander of USACE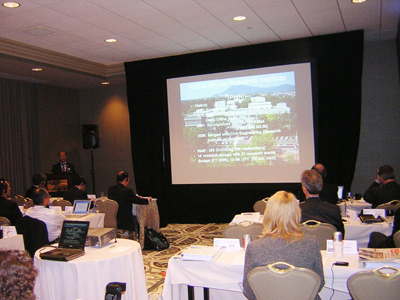 There were 9 presentations form both sides on risk management, environmental impact,
consensus building and watershed management.

---

5."The 2nd Asian Water Cycle Symposium (AWCS)" in the University of Tokyo (Jan.9-10, Tokyo, Japan)
This Symposium has reviewed and discussed a baseline implementation plan of the Demonstration Projects and respective proposals mainly for the nominated river basins in individual countries. Key local water resources issues, existing observation capability, and data availability were among other topics of discussion. In this symposium, participants discussed the possibilities of effective collaboration among local/national water resources management as well as meteorological authorities and institutions, international organisations and programmes, and space agencies. This kind of collaboration is essential for the successful implementation of Demonstration Projects and ensuing AWCI activities. Mr. Fukami, a leader of Hydrologic Engineering Research Team participated and introduced an information network and training activities of ICHARM.


---
6. International Symposium on 2006 Flood of Chao Phraya River: "Emerging issues and contribution of hydrological studies" (Jan.19, Thailand)
The International Symposium on 2006 Flood of Chao Phraya River: "Emerging Issues and Contribution of Hydrological Studies" was held on 19th January , 2007, at the Royal River Hotel on the Chao Phraya River in Thailand. The symposium was organized by the Thai National Committee on Irrigation and Drainage, the Public Works Research Institute (PWRI), and the Disaster Prevention Research Institute of Kyoto University with support from the Japan Science and Technology Agency. The Chao Phraya River was flooded for about four months from September through December 2006, which has brought our attention to emerging flood-related issues. The symposium provided an opportunity to discuss ways to apply research results produced by the Core Research for Evolutional Science and Technology (CREST) project and other projects to those issues in terms of the relationship between the basin's socio-economic development and water cycle.
The main purpose of this symposium was to present the results of a PWRI research project entitled "Interactions between Social Changes and Water Cycle in the Chao Phraya River Basin" to scientists and government engineers in Thailand. The research project is part of "System Modeling Approaches for Assessment of Interaction between Social Changes and Water Cycle" led by Prof. Kaoru Takara of Kyoto University. This is, in turn, one of the research topics of a CREST program called "Research and Development of Hydrological System Modeling and Water Resources System." The symposium participants exchanged information regarding the damage caused by the 2006 flood and emerging flood-related issues by communicating in Japanese or Thai through simultaneous interpretation.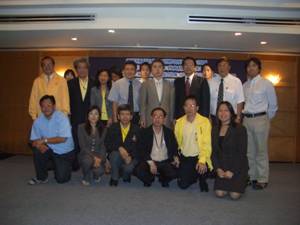 Organizers and participants at the symposium

---

7. "The 8th USGS-NILIM/PWRI Workshop on Hydrology and Water Resource " (Jan.28-29, USA)
The Public Works Research Institute, the National Institute for Land and Infrastructure Management (NILIM), and the United States Geological Survey (USGS) had jointly organized a workshop, which was held from 28th to 29th January in Denver, Colorado USA. Representatives from each organization discussed the direction and the contents of potential collaborative researches. Acting Director of ICHARM, Mr. Terakawa reported the activities of ICHARM and highlighted the possible cooperation between ICHARM and USGS.
The team leader of Hydrologic Engineering Research Team, Mr. Fukami also attended this workshop to exchange information and research results, activities on discharge observation technology development, and flood forecasting technology with USGS. He also joined a discussion with USGS about the nfluence of climate change to hydrology and water resources. On 2nd February, they visited USGS office at the University of Sacramento in California and shared information about water resources and water environment management in the state of California.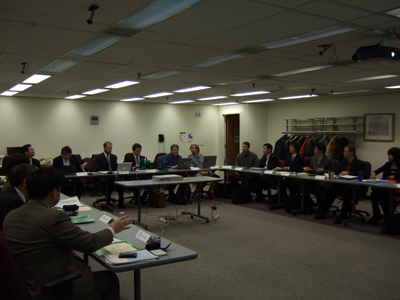 at the workshop

---
8. "The 3rd Workshop on Watershed and River System Management" (Jan.31, USA)
8**This workshop was jointly organized by Bureau of Reclamation, U.S. Department of the Interior (USBR) and the Public Works Research Institute on 31st January in Denver Colorado, U.S.A. The Public Works Research Institute and USBR have established an agreement for 'Collaborative research on watershed and river system management' in 2002. Mr. Kuriki, Executive Coordinator for International Affairs, and Mr. Fukami, the leader of Hydrologic Engineering Research Team attainted this workshop and exchanged research activities and results on watershed management planning that were part of research topics of the agreement. They agreed to enhance the exchange of information on hydrological statistics, database system of river information and United States water resources management initiative 'Water 2025'. The workshop was followed by field trip to water resources facilities in San Francisco, California.**8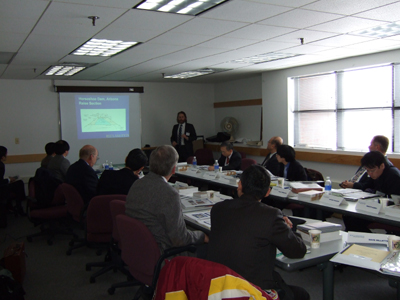 at the workshop

---

9. Mangrove Survey in Malaysia (Feb.3, Malaysia)
ICHARM has just started to study seacoast vegetation as a possible tsunami disaster prevention measure which is sustainable. The study includes a plan to explore possible ways to use seacoast vegetation, such as mangroves, for seacoast preservation. Although mangrove forests have not been paid close attention by developing countries in general, the forests are considered to play a very important role in tsunami disaster prevention in some developing countries. For example, right after the Great Indian Ocean Tsunami induced by the Sumatra Earthquake, the Malaysian prime minister said coastal projects should be planned so that mangrove trees were not harmed and ordered government agencies to replant mangrove trees felled by last month's devastating tsunami.
Last November, an international symposium on mangrove management was held at Kyoto under the leadership of Prof. Kiyoshi Kobayashi of Kyoto University. The symposium was a great opportunity for participants to exchange a great deal of information on mangroves from different viewpoints, including ecology, environment, disaster prevention, sight-seeing, and management. The second international symposium on mangrove management is scheduled for September this year.
To look at the current state of mangrove forests more closely, Prof. Kobayashi and Mr. Tanaka, an ICHARM senior researcher, visited Malaysia on 3rd February to conduct a joint on-sight survey on mangrove forests in the Carey Island, which is located off the western coast of Malaysia and about an hour's drive from Kuala Lumpur. Dr. Maisarah Ali, a deputy dean of the International Islamic University Malaysia, kindly offered to be a local guide for us.
Picture 1 shows a kind of mangrove whose leaves excrete salt, which has been taken into its system. You can taste salt by licking those leaves.
Picture 2 shows a nest hole dug by crabs living in mangrove forests. They created a tiny silt mound, about 30cm high.
| | |
| --- | --- |
| Picture 1 Mangrove with salt-excreting leaves | Picture 2 Nest hole by crabs living in mangrove forests |
Picture 3 shows mangroves cut down for charcoal use. Those were relatively thin trees of about 10cm in diameter. There were mangrove seedlings ready to plant beside the cut-down trees.
Picture 4 shows a mangrove seed, which looks like it is sticking into the ground after dropping from a tree.
| | |
| --- | --- |
| Picture 3 Mangrove trees cut down for charcoal use | Picture 4 Mangrove seed sticking into the ground |

---
10. A Brief Survey on Flood Damage Assessment Conducted in Johore State, Malaysia (Feb.5-6, Malaysia)
10**In two separate incidents on December, 2006 and January, 2007, southern part of Malaysia was severely attacked by floods, which have resulted in loss of more than 17 human lives and substantial damage to the economy. A Johore state especially Johor Baru, Batu Pahat, Keluang and Kota Tinggi districts were among the most affected areas. Floods have been more wide-spread in Malaysia and these events in Johore state are among severe in the history especially in terms of having more than 100 years of return period and substantial damages to the life and physical properties thereby to the economy. To investigate the damage and to observe the current situation, a brief field survey was carried out by ICHARM in major flood affected areas. The survey team was comprised of 3 ICHARM members (Mr. Tanaka, Dr. Osti and Mr. Tokioka) and it had surveyed the situation in Batu Pahat, Keluang and Kota Tinggi between 5th and 6th February.
On the first day, the team investigated the banks along the Semberong river and its tributary namely Mengkibol river in the northern part of Keluang city. There are well functioning telemetric stations coupled with sirens, which issued continuous warning to the public during flood events. The Semberong river was also swelled tremendously, causing massive bank erosion and damaging 30 houses within 3 km river reach at Keluang city. Houses were elevated over 50 cm at plinth level, however this was not helpful because fast flowing water reached up to 4m on the ground as indicated by flood marks. A bridge in route was also partially damaged due to heavy scour in its abutments. In this area, flood killed one person and forced 300 residents to spend more than 1 week-long refuge life in temporary shelters. Another site that was visited on the same day was Batu Pahat river in Batu Pahat district. Reservoirs such as Bekok and Sembrong were already full following the first wave of flood therefore they could not resist second flood wave due to insufficient time to subside existing water level. About 10,000 people took shelter on designated schools and public buildings for more than 3 weeks. Next day, survey team visited Kota Tinggi city, one of the most adversely affected cities in the state. On 19th December and 12th January, water level in Johor river rose above the bank level by 2.3m and 2.75m respectively steady inundation in Kota Tinggi lasted for 3 days. About 13,000 residents were evacuated and kept in different shelters for about 1 week. All district administrative offices, schools and factories were closed, lifelines e.g. water, electricity and gas including telephone lines were damaged and business activity in the city was fully halted. Structural countermeasures, which were designed for a flood of 50 years return-period were incapable of preventing flood. Pump stations were fully submerged so that they could not be operated during flood event. Accumulated rubbishes were left elsewhere in the city and are under clearing process. The depth as well as the velocity of flood was too high in the city therefore evacuation was difficult. Recent flood marks indicate that the water level was 30 cm as high as the historically known worst event, which occurred in 1948. Three people lost their lives due to the flood in this area. Survey team also took some interviews with local residents including business persons. Most of interviewees expressed the event as most horrific in their life. They have lost their assets and source of income, so they are expecting compensation and practical supports from the government. Some businesspersons who had run large scale business in the city, are planning to relocate in other cities to reestablish new business, whereas small traders are expecting immediate supports from government to waive government taxes and lessen the burden to pay off bank interest and other installments. It may take some months to get some sense of normal life back in this city.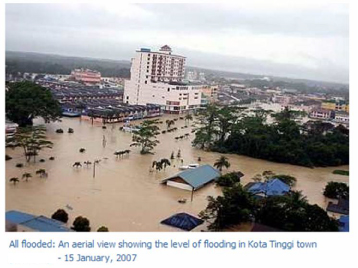 Flooded Kota Tinggi in January, 2007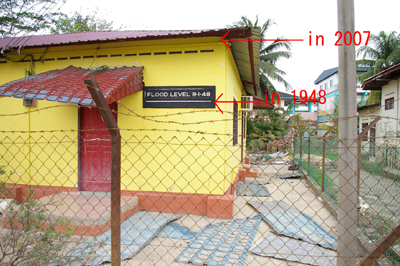 Flood Marks on the wall of gate keepers office at DID
in Kota Tinggi

---

11. "Typhoon Committee Hydrological Component Workshop for the Exchange of Technology on Evaluation and Improvement of Flood Forecasting System" (Feb.5-7, South Korea)
his workshop was conducted by the Korean Ministry of Construction and Traffic on behalf of Typhoon Committee, Hydrological Component of the World Meteorological Organization (WMO), and United Nations Economic and Social Commission for Asia and the Pacific (ESCAP). As an expert of this research field, Mr. Fukami, the leader of Hydrologic Engineering Research Team, reported the present conditions of flood. forecasting system and technology in Japan. In this workshop, participants hold an active discussion about a policy for the improvement of performance evaluation/management system for flood forecasting system called MOFFS (Management Overview of Flood Forecasting System), on which Korea put special emphasis.


---

12. "East & Southeast Asia Regional Seminar on Flood Hazard Mapping", 2007 (Feb.7-9, Malaysia)
"East & Southeast Asia Regional Seminar on Flood Hazard Mapping" was organized by International Centre for Water Hazard and Risk Management, Public Work Research Institute (ICHARM/PWRI) in close cooperation with Japan International Cooperation Agency (JICA) and Department of Irrigation and Drainage (DID), Malaysia. The event was held from 7th to 9th February, 2007 in Renaissance Hotel Kula Lumpur. The main objective of the seminar was to provide the platform for former participants of Flood Hazard Mapping (FHM) training course to share their knowledge and experience through interactive participation. Selected participants were professional engineers from governmental organizations working actively in flood disaster management in their home countries.
The seminar concentrated on the issues of flood hazard mapping and its field application as a tool for disaster preparedness and mitigation. All together 25 participants including 8 local participants those selected by DID, Malaysia have taken extensive benefits from the seminar, sharing theoretical and practical knowledge and achieving hands-on experience with field visits in one of the flood affected areas in Kuala Lumpur, Malaysia. Presentations from participants covered range of aspects such as case study, work progress, current issues, future challenges etc. In addition, invited lecturers from selected international organizations gave insights on latest technology and methodology for the development of flood hazard map.
The seminar was inaugurated by the Deputy Minister of Natural Resources and Environment H.E. Mr. S. Sothinathan. Several high ranking officials from different governmental organizations of Malaysia were also present in the opening ceremony. In the occasion, the deputy minister and the Director General of DID expressed their interest to cooperate with ICHARM for long term cooperation in the field of water induced disaster management in Malaysia, of which southern part especially Johor state was seriously affected by the flood in December 2006 and January 2007. Mr. Terakawa, the acting director of the ICHARM expressed his appreciation to all participants and thanks to co-organizers for their supports to make the event successful and effective. And, also, two Dr. Manzul Hazalika, Asian Institute of Technology(AIT) and Dr. Arun B.
Shrestha, International Centre for Integrated Mountain Development(ICIMOD) were invited as resource persons and gave the presentation titled by "Capacity Building in Applications of Geoinformatics in Flood Hazard Mapping" and "Flash floods in the Himarayas and vulnerability analysis".
Similar kind of workshop will be organized by ICHARM in 2008 with the involvement of most former participants of FHM training course and representatives from several international organizations and research institutes from around the world.
The event and the comments from deputy minister were highlighted in most local newspapers.
| | |
| --- | --- |
| Presentation of ex-trainees | at the seminar |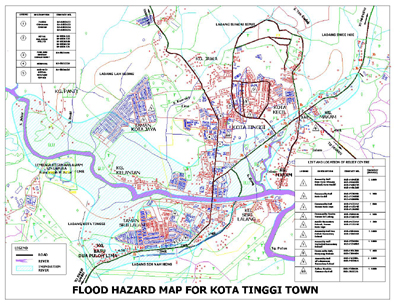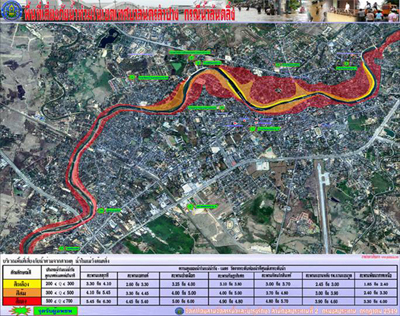 Flood hazard map in Malaysia and Thailand

---

13. OIC-Director Cabral and two officials from the Philippines visits ICHARM (Feb.8, Tsukuba, Japan)
Dr. Cabral and two other officials from the Philippines visited ICHARM on 8th February, 2007. They were invited by JICA to implement the Philippine-JICA study, "the Nationwide Flood Risk Assessment and the Flood Mitigation Plan for the Selected Areas in the Republic of the Philippines". The three visitors were Dr. Maria Catalina E. Cabral (OIC-Director, Planning Service, Department of Public Works and Highways), Mr. Philip F. Menez (Project Director, Project Management Office of Major Flood Control and Drainage Projects-Cluster II, Department of Public Works and Highways), and Mr. Freddie M. Combalicer (Engineer, Quezon 1st District Engineering Office, Region IV-A, Department of Public Works and Highways).
The survey is conducted to collect and to organize natural and social conditions and past disaster records regarding 18 large river basins and 403 small and medium river basins throughout the Philippines. Based on the data collected, risk assessment will be conducted for each basin of the country, and proposals will be made suggesting effective structural and non-structural flood control measures for river basins assessed to be of high risk.
Over the past 30 years, the Government of Japan provided intensive support to large-scale flood control projects for 18 large-size rivers in the Philippines. However, now emerging is a strong demand for low-cost and effective flood control measures targeting small- and medium-sized rivers. In addition to tight financial conditions, there are more and more cases in which politically and financially important cities are located in the inland areas of small- or medium-sized rivers. In recent years, the Philippines is aggressively promoting the integrated water resource management and the river basin management. The Philippine officials visited ICHARM in this context to have a better understanding over stakeholder coordination systems, including procedures to formulate river development plans, about which Japan has accumulated a great deal of knowledge.
In addition, there are still a large number of rivers without levees in the Philippines, which resembles the time before modern flood control was introduced to Japan. Because of that, ICHARM also provided them with information on traditional flood control planning and technology, such as flood defense methods, utilization of reservoirs, groins, and open levees.

---

14. "The 1st Meeting of the Asia Pacific Water Forum Governing Council" (Feb.21-22, Singapore)
"The 1st Meeting of the Asia Pacific Water Forum Governing Council" was held on 21st to 22nd February 2007 in Singapore under the chairpersonship of Mr. Tommy Koh, an ambassador-at-large. The meeting approved three priority themes for the Asia Pacific Water Summit in December 2007 in Beppu, Oita, Japan. These three themes are as follows: 1) Water Financing, 2) Water-related Disaster Management, and 3) Water for Development and Ecosystem. Also, the meeting concluded that ICHARM should be the lead organization in water-related disaster management. By the December summit, ICHARM plans to compile a thematic report to make a political appeal with supporting arguments regarding the issue after deepening discussions through the water weblog of the Asia Pacific Water Forum (http://www.apwf.org/). Dr. Tarek Merabtene is in charge of the water weblog. Anyone who is interested in the issue will be welcome to join the discussion.

---

15. "Hydrology delivering Earth System Science to Society", HESSS (Feb.28-Mar.2, Tsukuba, Japan)
A three-day international symposium on "Hydrology delivering Earth System Science to Society" was held at the Tsukuba Congress Center from 28th February to 2nd March. The symposium was supported by a research project called "Leadership on the Hydrological Science for Mitigating World Water Issues" (led by Prof. Taikan Oki of the Institute of Industrial Science, the University of Tokyo) under the Leadership for International Scientific Cooperation program, part of the Special Coordination Funds for Promoting Science and Technology.
The purpose of the symposium was to discuss a broad range of issues on modeling technology including latest modeling technologies, future directions of modeling technology development, how to fill gaps between social expectations to and the current development level of modeling technology.
ICHARM participated in the symposium as one of the organizers, and several ICHARM researchers made presentations respectively. Dr. Takeuchi, Mr. Terakawa and Dr. Merabtene made oral presentations and Dr. Hapuarachchi, Dr. Osti, and Mr. Inomata gave poster presentations.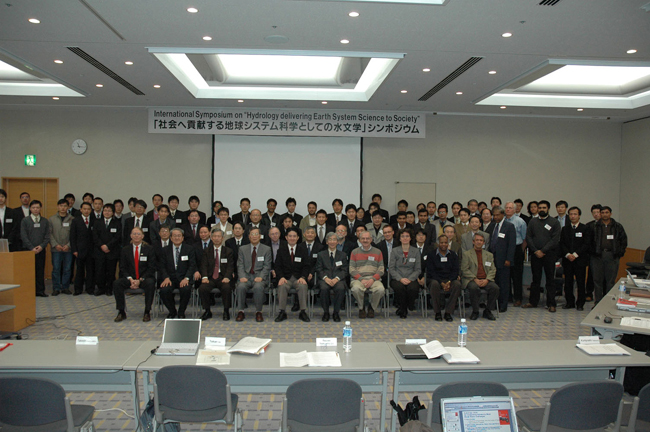 Participants at symposium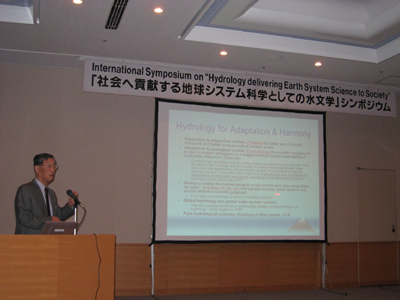 Dr. Takeuchi at presentation

---

Information
I CHARM newsletters are distributed via e-mail. They can also be downloaded from our website. To subscribe or unsubscribe to our mailinglist, please contact us via e-mail. We welcome any comments or requests from you to help us make this newsletter more effective and informative.
Issued by: International Centre for Water Hazard and Risk Management under the auspices of UNESCO (ICHARM)
1-6 Minamihara Tsukuba Ibaraki 305-8516, Japan Tel: +81-29-879-6809 Fax: +81-29-879-6709
e-mail:
icharm@pwri.go.jp
URL:
http://www.icharm.pwri.go.jp/