"Aerially placeable floating water gauge (APF gauge)" wins 14th Infrastructure and Technology Development Award
 The "Aerially placeable floating water gauge (APF gauge)" has won the Selection Committee Chairman's Award at the 14th Infrastructure and Technology Development Awards Ceremony hosted by the Japan Institute of Construction Engineering (JICE) and the Coastal Development Institute of Technology (CDIT). The awards are designed to commend developers of technology who have contributed to outstanding new technologies in the construction sector and their development. The aim in doing so is to motivate R&D efforts and raise levels of construction technology among technology developers in the construction sector.
 The award-winning technology was jointly developed by PWRI and Takuwa Corporation as a dedicated device for monitoring water levels in river blockage (natural dams). It was used when a spate of river blockage disasters occurred in the Kii Mountains as a result of Typhoon Talas last September, and was highly praised as contributing to MLIT's emergency surveys and response. This is the sixth time PWRI has won the award, and the first time in three years. The Awards Ceremony was hosted by JICE and CDIT on Jul. 6th, 2012, in the presence of Ken Okuda, Senior Vice-Minister of Land, Infrastructure, Transport and Tourism (photo).
 There are fears that sediment disasters could become more severe in future, partly due to global warming. As such, it is growing ever more imperative that we address large-scale sediment disasters such as major river blockage caused by heavy rains or earthquakes. Spurred on by this award, the PWRI Volcano and Debris Flow Research Team will strive to improve and increase the availability of this device, as well as developing practical technology to respond to large-scale sediment disasters occurring in future.
 Web page introducing the 14th Infrastructure and Technology Development Award winning technology:
 http://www.jice.or.jp/kaihatsusho/201207060.html (Japanese Only)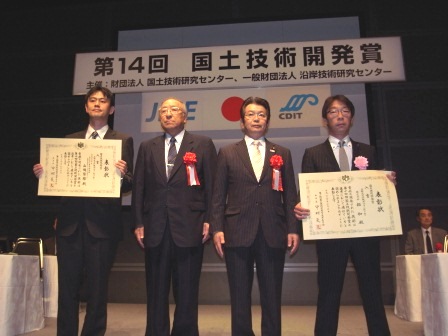 Photo:  Posing for commemorative photography after the ceremony (from the left: Takao Yamakoshi, Senior Researcher, Volcano and Debris Flow Research Team; Hideo Nakamura, Selection Committee Chairman, 14th Infrastructure and Technology Development Awards; MLIT Senior Vice-Minister Ken Okuda; Takehiko Takahashi, Director of General Sales HQ, Takuwa Corporation)
(Contact: Volcano and Debris Flow Research Team)
Certificate of Appreciation to commend efforts after the Great East Japan Earthquake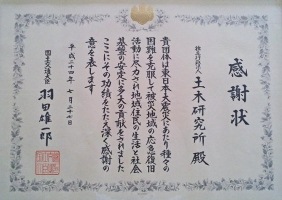 Certificate of appreciation from the Minister of Land,
Infrastructure, Transport and Tourism
 In an Awards Ceremony held at MLIT on Jul. 27th, 2012, Certificates of Appreciation in the name of the Minister of Land, Infrastructure, Transport and Tourism were awarded to commend valuable and meritorious efforts following the Great East Japan Earthquake. Certificates were awarded to 307 persons who had overcome a variety of difficulties to make a significant contribution to the lives of local residents and the stability of social infrastructure, including efforts to restore damaged communities and rescue affected citizens.
 PWRI received a Certificate of Appreciation for its efforts including emergency restoration activities for various facilities after the Great East Japan Earthquake. These activities were deemed to have made a significant contribution, such as stabilizing social infrastructure in damaged communities.
 When the Great East Japan Earthquake struck, PWRI responded to requests from the government and local authorities by sending a total of 188 experts for efforts including disaster damage surveys immediately after the occurrence, followed by technical support for restoration. As well as short-term technical guidance, this also included positive participation in various committees and other bodies connected with the Great East Japan Earthquake, restoration support and long-term reconstruction support for the damaged area.
(Contact: General Affairs Division)
PWRI hosts site tour of "High oxygen supply system"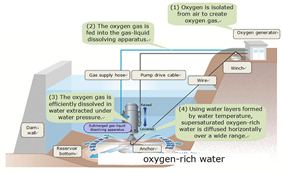 Outline of the system (click to enlarge)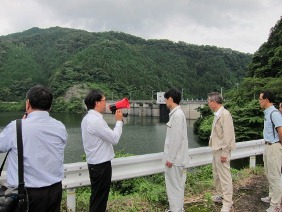 The site tour in progress (Shimajigawa Dam)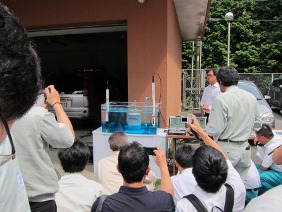 Demonstration using a model
 On Friday Jul. 20th, PWRI hosted a site tour of its "High oxygen supply system", jointly developed with a private company, at the Shimajigawa Dam (Shunan, Yamaguchi Prefecture).
 The "High oxygen supply system" produces oxygen-rich water by dissolving oxygen to water of hypolimnion, and can supply oxygen directly to the desired water depth.
 Installing the system underwater makes it possible to dissolve oxygen efficiently through the effect of water pressure. The pressure inside the system is the same as water pressure, meaning that no bubbles are formed when releasing dissolved oxygen, and oxygen-rich water can be supplied over long distances without disturbing water stratification. Moreover, because the system can be moved up and down freely, the oxygen concentration can be increased at any chosen depth.
 In dam reservoirs which have long water retention time, the bottom layers tend to a deficiency of dissolved oxygen in water, particularly in summer. This oxygen deficiency then causes the release of nutrients such as nitrogen, phosphorous and metals such as iron, manganese and arsenic, etc. from sediments on the reservoir bottom. When these are released, they can harm water environments and cause water use failures. At the Shimajigawa Dam, this system was introduced to reduce the release of metals from sediments. As a result, levels of dissolved oxygen in the bottom layer recovered and the release of metals was inhibited, thus helping to improve the water environment.
 On the day of the tour, the site was visited by 43 participants including engineers from administrative bodies and construction consultants. After an outline of the technology and other details had been explained in Shunan City, a demonstration using a model was given at the Shimajigawa Dam(Yamaguchi Office of River and National Highway, MLIT), where the system is actually installed. This was followed by a tour of above-ground system for extracting oxygen from air, etc., to promote understanding of the new technology. So far, the system has been installed in five sites around Japan, including this one and the Haizuka Dam (Miyoshi, Hiroshima Prefecture), and further application is expected in future.
(Contact: Construction Technology Research Department)
PWRI exhibits in a side event to the "World Ministerial Conference on Disaster Reduction in Tohoku"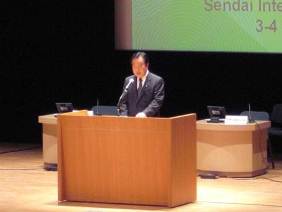 Prime Minister Noda giving
his Opening Remarks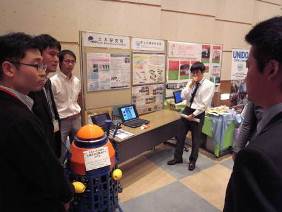 Some anxious looks during
Foreign Minister Gemba's visit!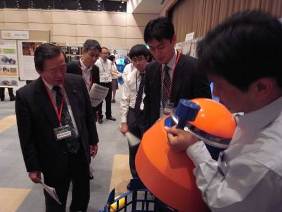 PWRI staffs explaining the
buoy to Deputy Foreign Minister Yamane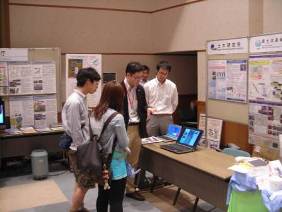 PWRI staffs explaining the Thai
flood simulations to overseas visitors
 The Volcano and Debris Flow Research Team and ICHARM exhibited their disaster prevention technology in a side event to the "World Ministerial Conference on Disaster Reduction in Tohoku", held at the Sendai International Center on Jul. 3rd-4th, 2012.
 The World Ministerial Conference was hosted jointly by the Ministry of Foreign Affairs, MLIT and other relevant government bodies together with international agencies and disaster-affected local authorities. It consisted of a plenary session and side events (location: Sendai International Center) as well as three breakout sessions (locations: Ichinoseki in Iwate Prefecture, Ishinomaki in Miyagi Prefecture and Fukushima in Fukushima Prefecture). The plenary session was attended by senior government officials from 63 countries and representatives of 14 international agencies, among others. Prime Minister Noda attended the Opening Ceremony and gave the Opening Remarks, while Foreign Minister Gemba and Reconstruction Minister Hirano also visited the side event venues including the PWRI booth.
 The Volcano and Debris Flow Research Team used posters, video and real-life exhibits to introduce technology designed to respond to river blockage (natural dams) developed by PWRI. This was illustrated by case examples of application to large-scale river blockage occurring in the Kii Mountains when Typhoon Talas struck last September. The"Aerially placeable floating water gauge (APF gauge)" (link to Web Magazine No. 11), developed to monitor water levels as soon as a river blockage has formed, attracted particular attention, perhaps because it looks like a robot at first sight.
 Meanwhile, ICHARM used animated video and posters to explain floodwater inundation predictions carried out during flooding of the Chao Phraya River, Thailand, in October 2011. The predictions made last year were part of an attempt to comprehensively analyze the whole of the Chao Phraya River Basin, from river discharge to flood inundation, by applying topographical and rainfall information obtained from satellites (link to Web Magazine No. 26). The predictions published in mid-October, at the peak of the flooding, indicated its prolonged widespread flooding even until the end of November around Ayutthaya, and the relevance of the predictions was generally confirmed through subsequent field surveys, etc. Large-scale flooding in lowland areas is an unfamiliar phenomenon to the Japanese, but the animated video is thought to have helped visitors understand the mechanisms on a conceptual level.
 The Great East Japan Earthquake seems to have sparked a global rise in awareness of disaster preparedness. In future, we would like to seize opportunities like this to publicize PWRI's disaster prevention technology both in Japan and abroad.
(Contact: Planning and Management Division, Volcano and Debris Flow Research Team, ICHARM)
CERI Open House: CERI's 75-year history and future potential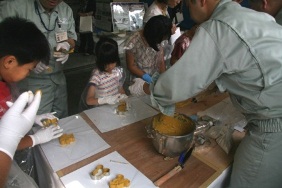 Playing with cement ?
"I hope I can mold it into a nice shape."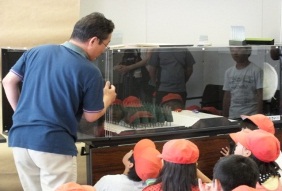 Simulating the effect of snow protection
 Based on the theme of 75 years of continued efforts to increase the potential of civil engineering in northern regions, 14 teams and 1 unit from CERI and the Tsukuba Central Research Institute brought together a variety of ideas to better present their research achievements to the public at an open house held on Friday, Jul. 20th and Saturday, Jul. 21st. Thanks to the fine weather, the event attracted as many as 1,387 people, which was higher than last year's figure.
Panels on CERI's 75-year history and research achievements
 As this year marks the 75th anniversary of CERI's establishment, its history and research achievements were highlighted on panels in chronological order between the main entrance and the lecture hall. In the hall, videos were screened, a technical consultation service was provided, and 75 Chishima cherry tree seedlings grown by CERI staff from seeds they collected were handed out to celebrate the anniversary.
Fun and discovery through tactile experience and experiments
 The Geological Hazards Research Team provided children with opportunities to simulate liquefaction by having them shake soil in cups. A space set up by the Structures Research Team where visitors could make their own magnets using concrete repair materials proved popular with children, as did an area run by the Geological Hazards Research Team where attendees could draw pictures on stones and an area provided by the Materials Research Team where children could play with cement. The Fisheries Engineering Research Team provided children with chances to actually touch sea cucumbers and abalones so that they could experience their textures and observe their characteristics. The River Engineering Research Team and the Watershed Environmental Engineering Research Team jointly displayed various educational exhibits and conducted an experiment involving water running into a model. Children were transfixed by the flowing water as they listened carefully to the researchers' commentary. The Snow and Ice Team performed experiments using a snowstorm model, and the Traffic Engineering Research Team allowed visitors to experience rumble strips and displayed actual wire rope guardrail systems with shock-absorbing function. The Rural Resources Conservation Research Team conducted a popular experiment on measuring the time taken for soil to drain and provided opportunities for hands-on experience with seldom-seen soil survey instruments. The Machinery Technology Research Team displayed a large snowplow and other types of equipment, and children reveled in the chance to sit in the driver's seat. In an area set up by the Scenic Landscape Research Unit, visitors could try on eye trackers and read about research results on panels. This year, the Tsukuba Central Research Institute participated in the CERI Open House event for the first time and offered visitors opportunities to make paper-craft arch bridges. This activity was highly popular, especially among children.
 This year's open house was well attended as always, and visitors fully experienced and enjoyed the exhibits. We will continue our efforts to become an even more useful and friendly facility in view of feedback received from visitors via questionnaires, and will be creative in preparing for next year's open house to attract as many people as possible.
(Contact: Cold Region Technology Promotion Division, CERI)
FY2012 "Tsukuba Little Doctor" Open Day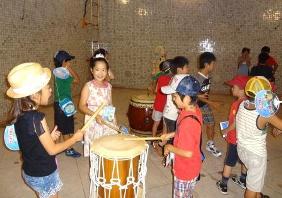 Children experiencing sound
reverberation by banging drums in the
"reverberation chamber".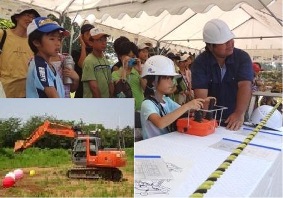 Operating a large hydraulic
excavator by radio control, under
the watchful eye of the researcher.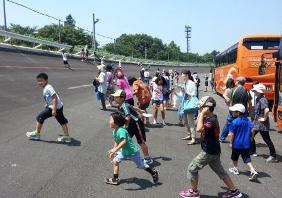 Children experiencing the
steep slope of the South Loop.
 On Friday Jul. 27th, the annual "Tsukuba Little Doctor." open day was held in a joint effort with the National Institute for Land and Infrastructure Management (NILIM). The event attracted 393 participants, many of whom were schoolchildren on their summer holidays. On a hot, sunny day with temperatures in excess of 35 degrees celsius, the participants were divided into groups of about 40, boarding two buses that took them to activities lasting about an hour. The experiences included operating a large hydraulic excavator by radio control, hearing the different reverberation of sound in an experimental facility where measures against road noise pollution are being researched, and finally the ever-popular high speed ride on a test track.
 In the radio operation of the large hydraulic excavator, a crowd of children gathered excitedly in front of the excavator. As soon as the explaining researcher said "Please hands up who wants to operate it", loud cries of "I do!" immediately went up. Even the researcher was overwhelmed by the unexpected popularity of the event. In this activity, the children were challenged with the task of operating the shovel to burst a large balloon placed on the ground. It was no easy task for them, but with the help of the researcher, they managed to operate the excavator. They also learnt a lot in the process, such as the purpose and roles of radio operation.
 The sound reverberation experience took place in an anechoic room (where no sound is echoed) and a reverberation chamber (where sound echoes more than usual). Here, a NILIM researcher first explained what sort of experiments had been conducted on measures against noise pollution on roads, why sound travels differently in the two chambers, and so on. Then the children actually entered the chambers, where they banged Japanese drums to hear and feel for themselves the huge difference in how sound reverberates, depending on the structure, materials and other aspects of the chamber.
 At the test track, the final destination of the bus tour, they first heard explanations of research facilities inside and near the track, then got out at the South Loop and experienced the steep gradient of the road. After that, they were taken around the sloping bank at speeds of up to 120kph. This raised a massive cheer from the children, although some were so scared that they held tightly onto mummy's hand!
 Though the time available had been limited, this direct experience of civil engineering technology will surely remain in their memories even as they grow into adults. At PWRI, we would like to continue supporting the children who will carry the future, through "Tsukuba Little Doctor" and other similar events open to the public.
(Contact: General Affairs Division)