Bio Natural Gas Generator Won the METI Minister's Award
The "Bio Natural Gas Generator," a system to refine sewage sludge digestion gas developed by PWRI jointly with Kobe City and Kobelco Eco-Solutions Co., Ltd., won the METI Minister's Award at the 35th Excellent Environmental Equipment Awards.

Problems at sewage treatment plants
Sewage treatment plants purify sewage generated from households and business establishments every day to discharge to rivers and/or to the sea. At that time, residue of microorganisms that play an important role in the purification of contaminants and water in sewage is separated from water as sewage sludge. The digestion gas generated in the process of treating this sewage sludge contains approximately 60% methane gas, which is attracting attention from the perspective of global warming countermeasures as a recyclable energy source. In the past, however, the gas only had a limited range of applications because it has a low methane concentration and contained impurities; gas not consumed at the treatment plants was burned to be dispose of.

What is a bio natural gas generator?
Our idea was to upgrade the sewage sludge digestion gas to further broaden the range of effective applications. We conducted a verification test using a technology called the "high pressure water absorption method" to increase the methane concentration to over 97% and removed unwanted impurities as well and successfully developed an advanced system to put to practical use: Japan's first bio natural gas generator that refines gas to levels comparable to city gas.
The high pressure water absorption method is a technology that takes advantage of the difference in the water solubility of methane gas, which has low water solubility, and that of other unwanted substances such as carbon dioxide and hydrogen sulfide. Pressurizing the gas further increases the difference in water solubility, which is used to increase the purity of the methane gas. This refining method is a simple technique that only uses water and electricity. Treated sewage can be used for this water.

Sewage turned into fuel for municipal buses!
Gas refined this way can be used as a fuel for natural gas fueled vehicles. The sewage sludge digestion gas generated at Kobe City Higashinada Sewage Treatment Plant is used as a fuel for municipal buses and commercial delivery vehicles fueled at the adjacent Kobe Biogas Station. The utilization that biogas obtained from sewage turned into vehicle fuel leads to reduced consumption of gasoline and natural gas, which also serves as measures for global warming.

A grand award ceremony was held
On Jun. 15th, 2009, the award ceremony for the 35th Excellent Environmental Equipment Awards was held in Tokyo by the Japan Society of Industrial Machinery Manufacturers. This award system is intended to select and recognize excellent equipment that addresses domestic and global environmental issues. The bio natural gas generator won this year's METI Minister's Award. On Jun. 15th, the grand prize award ceremony was held with attendance of Dr. Oishi, Deputy Chief Executive of PWRI, and the developers of the technology.
The Recycling Research Team intends to continue to engage in the development of technologies that contribute to the conservation of the global environment.


(Contact: Recycling Research Team)
Participation in Takikawa Eco Car Festival
On Jun. 21st, 2009, the Machinery Technology Research Team and the Central Hokkaido Branch Office of CERI took part the Takikawa Eco Car Festival (sponsored by Takikawa City), which was held in Takikawa City.
This event was held to give a final touch to Takikawa Fuel Cell Vehicle Week, which took place from Jun. 15th to 21st with the goal of familiarizing many city residents with the appeal of fuel cell vehicles by taking the opportunity of the loan of the Honda FCX Clarity fuel cell vehicle as part of the Fuel Cell Vehicle Enlightenment and Promotion Program implemented by the Ministry of the Environment.
At the event, Takikawa City's biodiesel fuel (BDF) government vehicle, fueled by waste cooking oil, and two mass-produced hybrid car models were displayed and the Machinery Technology Research Team exhibited a compressed natural gas (CNG) vehicle.
This CNG vehicle is fueled by biogas generated from garbage. The Machinery Technology Research Team of CERI developed a technology to refine compressed natural gas, which provides the fuel, from biogas. This vehicle is used daily as a road patrol car of the Hokkaido Regional Development Bureau, MLIT. The biogas is generated by subjecting garbage to a methane fermentation process on a daily basis at the wide-area waste treatment facilities (Recyclean) managed and operated by the Naka Sorachi Sanitary Facility Association (Takikawa City, Ashibetsu City, Akabira City, Shintotsukawa Town and Uryu Town, Hokkaido). The garbage biogas is turned into a fuel for use in CNG-compatible vehicles by using the refining, compressing and filling equipment owned by the Hokkaido Regional Development Bureau, MLIT.
Participants asked questions such as: "Is the fuel made from garbage?" "Is it possible to switch between gasoline and CNG?" and "Is the power of CNG equivalent to that of gasoline-fueled vehicles?" The researcher in charge answered the questions, explaining that "The gas generated from garbage is used as the fuel," "Switching with gasoline is possible" and "The power provided is 30% lower than gasoline-fueled vehicles but there are no associated problems with driving." The participants enjoyed receiving free samples of manure made from garbage.
The Machinery Technology Research Team plans to identify problems with use during the winter season and study improvement measures, thereby proposing a model for introduction of garbage biogas in Hokkaido.


(Contact: Machinery Technology Research Team and Central Hokkaido Branch Office, CERI)
Only Rumble Strips Chosen as a New Technology Information System (NETIS) Recommended Technology; MLIT Field Study Conducted
Dissemination Throughout Japan Anticipated
On Jul. 8th, 2009, at CERI, the MLIT's 1st Yardstick/Machine Cost Working Group Meeting of 2009 conducted a field study on rumble strips, a technology recommended by New Technology Information System (NETIS). The Meeting offers an opportunity for the MLIT home office and regional development bureau employees to discuss civil engineering work standard yardstick, contract work machine cost estimation guidelines, and more. A total of 25 people participated in the recent meeting. Yardstick and estimation guidelines provide standards required for awarding public works contracts.

Rumble strips were the first technology selected in Japan as a NETIS' public works recommended technology in public works in 2009. At the meeting, a field study was conducted to accelerate applications of rumble strips, a useful new technology.

Recommended technologies are selected from among various innovative new technologies recommended by regional development bureaus and others at the NETIS Review Meeting (a meeting of experts) held at the MLIT's head office. These technologies go through a rigorous screening process which requires unanimous approval of the selectors. The MLIT established this system to further improve technological standards for public works and others. A technology selected as a recommended technology contributes to the raising of scores in bid evaluation and construction performance evaluation based on the comprehensive evaluation method, which encourages dissemination and promotion of the new technology selected.

Selection as the recommended technology means that rumble strips, which have been developed by CERI, are rated highly and positioned as a new technology whose nationwide dissemination will be promoted by MLIT this year in the strongest possible terms.

For the field study, Dr. Hirasawa, Senior Researcher of the Traffic Engineering Research Team of CERI, gave a lecture on the R&D, installation method, dissemination status, and verification of the effects of rumble strips as measures against head-on collisions. After this lecture, actual installation of rumble strips took place. Subsequently, participants boarded the test vehicle and experienced the sound and vibration of the rumble strips. We expect that the information and experience from this meeting will be brought back to individual regional development bureaus and rumble strips will become popular traffic safety measures in areas outside Hokkaido.
The remarkable effect of rumble strips installed on accrual roads is shown in the graphs below.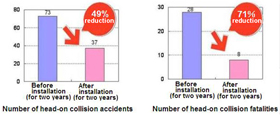 * For more information about rumble strips visit:
http://www2.ceri.go.jp/rumble/index.html

(Contact: Traffic Engineering Research Team, CERI)
Exhibit at Geoinformation Forum 2009
The Geoinformation Forum Japan 2009 was held for three days, Jun. 17th - 19th, 2009, at Pacifico Yokohama in Yokohama City. The Forum proved to be a grand event with symposiums in geospatial information-related fields such as surveying, map making, research/design and construction works, exhibitions, and research results presentations of new technologies including geospatial information systems by corporations and related organizations.
PWRI presented a technology called information integrated construction for smooth undertaking of civil engineering works for roads and levees and a technology in connection with the standardization of data used for civil engineering works.
The information integrated construction is intended to improve productivity and ensure quality by making use of electronic data for civil engineering works. The technology takes advantage of information and communication technology (ICT) to use electronic data obtained from various civil engineering work processes, thereby realizing more efficient and highly accurate construction.
Approaches to information integrated construction are already under way in large-scale works such as dam construction and some road construction works. However, many such systems have been developed based on use of the technology in sites of a certain scale or on a single site and have not been considered for use on other civil engineering sites. The data vary in format and do not allow for other use cases.
Accordingly, widespread dissemination and operation of the system require easy and reliable data exchange among the construction machinery, measuring equipment, and site information system on any site. PWRI has established data exchange standards (building of standard data flows and data items) regarding a type of work called "embankments" used in levee and road construction conducted in many public works, which has allowed extensive information distribution, and has been carrying out research that will achieve even higher efficiency and accuracy than are available now.
At our technology exhibit at the Geoinformation Forum Japan 2009, we presented and introduced a specific information model for embankments with instances of data exchange and procedure and information items put in order as a scenario corresponding to a civil engineering work procedure,and data dictionaries describing the definitions of data elements.
Based on this result, we put together the ISO 15143 Worksite data exchange "Part 1: System architecture" and "Part 2: Data dictionary," which were certified by the International Organization for Standardization (ISO) in Dec. 2008.


(Contact: Advanced Technology Research Team)
Open House for CERI
The annual CERI Open House was held on Jul. 3rd and 4th. The event featured creative presentations made by 14 research teams and one unit under the theme of "Aha-The Wisdom of the Northern People" and received some 1,300 visitors.

Description of Research for Engineers
This year, for the first time, we set up the Research Explanation Corner for Engineers, a program in which questions asked by civil engineering experts were answered in detail. During the short period of time between 1:00 to 3:30 pm on Jul. 3rd, engineers from private companies brought professional issues to discuss such as methods of test to counter heavy-metal contamination. Responses were given by presenting the results of past studies and describing the issues.

Experience and Demonstration Program
Every participating team offered experience and demonstration programs as in previous years and many visitors came to participate. The experiment in which participants were asked to measure the concentration of phosphate required for plant growth was intended to facilitate their understanding of soil suitable for farming and made them feel like temporary scientists, as there were professional laboratory instruments offered for use. The experiment proved very popular. The levee breach experiment using a model was a realistic reproduction of how a levee was broken and floodwater containing sediments surged toward houses, offering to visitors a deeper understanding of the dangers of floods and the necessity of levees.
Visitors greatly enjoyed the many other experience and demonstration programs that were carried out.

Panel and Video Presentations
In order to help participants understand the importance of infrastructure improvement, we showed a valuable visual record of the initial period of Hokkaido development and used photo panels to describe how Sapporo developed from a wilderness into the city with a population of 1.8 million that it is now. Visitors seemed extremely interested.

Miscellaneous
The Open House was covered by a local radio station on Jun. 24th and 29th and team leaders of the Cold-Region Technology Promotion Division and research teams made live appearances on the show, where they invited listeners to visit the Open House and talked about the content of and their enthusiasm for the research conducted at the CERI.


(Contact: Planning Division and Cold-Region Technology Promotion Division, CERI)
PWRI Research Evaluation Committee External Evaluation Committee Meeting FY2009
From the beginning to the middle of Jun., the PWRI Research Evaluation Committee External Evaluation Committee (hereafter, "Committee") Subcommittee (hereafter, "Subcommittee") meetings were held. The Committee meeting was held on Jun. 26th and chaired by Prof. Takeshi Tamura from Kyoto University Graduate School.
There are a total of eight Subcommittees for individual fields (Table-1). The Subcommittee meetings included a report on the progress of the project theme as a whole on the priority project research for the individual fields, and discussion on the pre-, interim, and post-research evaluation of the research subjects.
At the Committee meeting, reports were given on the content of the discussions at the respective Subcommittee meetings and discussions were held on those reports. Finally, we received an opinion to the effect that "the priority project research and overall research activities are making good progress and research should be continued based on the evaluation and discussion of the Committee and Subcommittees." In addition, Evaluation Committee members gave PWRI a wide range of advice from the perspectives of internationalism, the presence of PWRI, and the direction of research as well as research management. While Committee meetings are generally held in Tokyo, this year's meeting was held at the CERI's auditorium in Sapporo. After the meetings, Committee members were taken on a tour of CERI's research facilities.

(Contact: Evaluation and Coordinate Section)

Tsukuba Kid's Doctor
Experiencing High-speed Travel and Public Opening of the Dam Hydraulics Laboratory
On Jul. 29th, the annual Tsukuba Kid's Doctor event was held jointly with the National Institute for Land and infrastructure Management (NILIM). Here is a brief outline of the event. Tsukuba Kid's Doctor event has been held since 1999 under the sponsorship of Tsukuba City and the Tsukuba City Board of Education as a science education promotion project targeting elementary and junior high school students all over Japan. The purpose of this event is to raise interest in science to encourage children to build a future filled with hopes and dreams by providing opportunities to familiarize them with technology and natural science at research and education facilities in Tsukuba City.
Six tour bus trips brought 404 elementary and junior high school students including their parents (348 last year) to the event venue, marking a record number of visitors. The two tour buses went their separate ways to the Test track and Dam hydraulics laboratory.
On the Test track, the bus made a round at a normal speed while explanations were given on various experiment facilities on the premises. At the south loop, the children got off the bus once in order to actually climb the slope of the bank and see what a real steep angle was like. The slope has a gradient of 27-degree and a radius of 223 m. When a car enters this sloped curve at a speed of 120 km/h, the centrifugal force upward and the gravitational force downward are balanced on the slope. When the visitors in the bus experienced this phenomenon as the bus drove on the slope at that speed, they all applauded and cheered loudly.
At the Dam hydraulics laboratory, a tour of an experiment by filling a dam model with water was given after a researcher explained about the models, roles, and number of dams. During the experiment, the issues related to measures for sediment removal accumulated in dams were described in an easy-to-understand way. Major types of dam include rock-fill dams, arch dams and concrete dams. The purposes for these structures include flood control and water storage. In Japan, there are approximately 2,800 dams with a height of at least 15 m. The models used for experiments are based on dams that actually exist in Japan and experiments are conducted by commission to study methods of discharge control and facility installation.
Some participant commented "I am looking forward to the high-speed run on the Test track every year." This gave us a real feeling of the popularity of the event.


(Contact: General Affairs Division)

PWRI Chief Executive Awarding and Notification Ceremonies Held
On Jul. 16th, 2009, PWRI Chief Executive Award Ceremony for FY 2009 was held at PWRI (Tsukuba) and the Chief Executive Award Notification Ceremony was held at CERI (Sapporo). The winners were screened for their individual performance on Jun. 15th by the Award Screening Committee chaired by the Chief Executive.
Two engineers and four assignees that showed particularly excellent performance and service approach in the commissioned contracts ordered by PWRI in FY 2008 were selected to receive the Excellent Engineers and Excellent Services awards. In addition, 11 staff members were commended for the excellent performance. 16 staff members (30 years) and 8 staff members (20 years) were commended for their long service.
At the award ceremony, Chief Executive Sakamoto presented the certificates and commemorative items, followed by his address and an address of thanks by Mr. Kazuhiro Kuzume (Kokusai Structural Engineering Corp.), a winner of the Excellent Engineer Award, on behalf of the award recipients.
At the CERI auditorium, Director General Tsunematsu presented the Excellent Service Award certificates and gave a congratulatory address. The Vice President of Union Data System Co., Ltd. gave a speech of thanks on behalf of the recipients.
The excellent services that won the Excellent Service Award include "Survey of the Process of ASR by Exposure Test" by Kokusai Structural Engineering Corp., "Numerical Analysis regarding Measures against Seepage Failures of River Levees" by Dia Consultant Co., Ltd. Geoengineering Div., "Assistance with a Horizontal Load Test of Piles" by Japan Pile Corp. Hokkaido Branch and "Improvement of Winter Road Probe System" by Union Data System Co., Ltd. The winners were commended for their performance and service approaches, which were recognized as particularly excellent. The Excellent Engineer Award was given to Mr. Hitoshi Kimura (Dia Consultants Co., Ltd. Geoengineering Div.) in addition to Mr. Kuzume as mentioned above.



(Contact: General Affairs Division)