ICHARM holds the 63rd R&D Seminar
ICHARM holds R&D Seminars to provide self-development opportunities for researchers to keep up with the latest knowledge and information by inviting domestic and international experts in the field of hydrology and water-related disasters.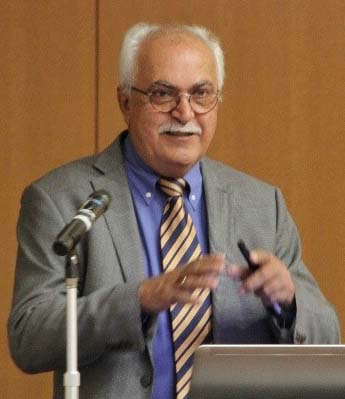 The 63rd seminar was held at the ICHARM Auditorium on November 15, 2018. The speaker was Dr. Soroosh Sorooshian, the director of the Center for Hydrometeorology and Remote Sensing, University of California, Irvine. He delivered a presentation entitled "Climate Variability and The Global Hydrologic Cycle: Efforts in Monitoring, Modeling and challenges in forecast Changes."
In his presentation, Dr. Sorooshian covered a wide range of topics from the basic viewpoint that is important to understand issues concerning climate, hydrology, and water resources to advanced projects such as ensemble forecasting using climate models and predicting future climate scenarios. He also introduced the PERSIANN system designed to deliver real-time precipitation information by using remote sensing technology. The presentation was very informative and insightful, drawing considerable attention from the audience.
Answering questions about future climate research after the presentation, Dr. Sorooshian stressed the importance of developing and selecting approaches and models while always aware of their limitations.
To wrap up the 63rd seminar, ICHARM Director Koike pointed out a key point of Dr. Sorooshian's remarkable research achievements, mentioning a good cooperative relationship the professor has built with his lab members and co-researchers.


Group photo with audience