Recent activities (from ICHARM Newsletter)
ICHARM emphasizes localism, i.e., project implementations tailored to local needs and conditions, by creating an efficient worldwide information network based on innovative research and effective capacity building based on the "ICHARM Work Plan" which is approved by the governing board every year.
Other activities are introduced in the latest ICHARM Newsletter.
From July 3 to 8, 2020, an active seasonal rain front remained over a wide area from the southern to eastern parts of Japan, causing heavy rain across much of the country. Especially, Kyushu, the largest southern island, was hit by record heavy rain from July 4 to 7.
ICHARM has been conducting research on floods with a massive transport of sediment, which have been frequently occurring throughout Japan in recent years, to clarify their mechanism and phenomena and study effective methods for sharing information in the event of such a disaster. In response to the Kuma River flood disaster, ICHARM sent a team of researchers to conduct a field investigation.
On July 16-18, the team stayed in Hitoyoshi City in the Kuma River basin to investigate the disaster due to the heavy rain.
ICHARM is working on the development of a system that allows each local government to check the status of their preparation for effective disaster response by combining the "Collection of Critical Situations during Flood Emergency Response (Appendix: local government response under COVID-19)" and the BOSSSHIFT disaster response support system, which were introduced in the No.57 of the ICHARM newsletter.
In order to reflect the opinions and needs of municipalities in this system development, ICHARM invited municipalities to participate in a trial experiment of this new system with support from the Cabinet Office. As a result, seven municipalities showed interest in the system and decided to participate in the experiment.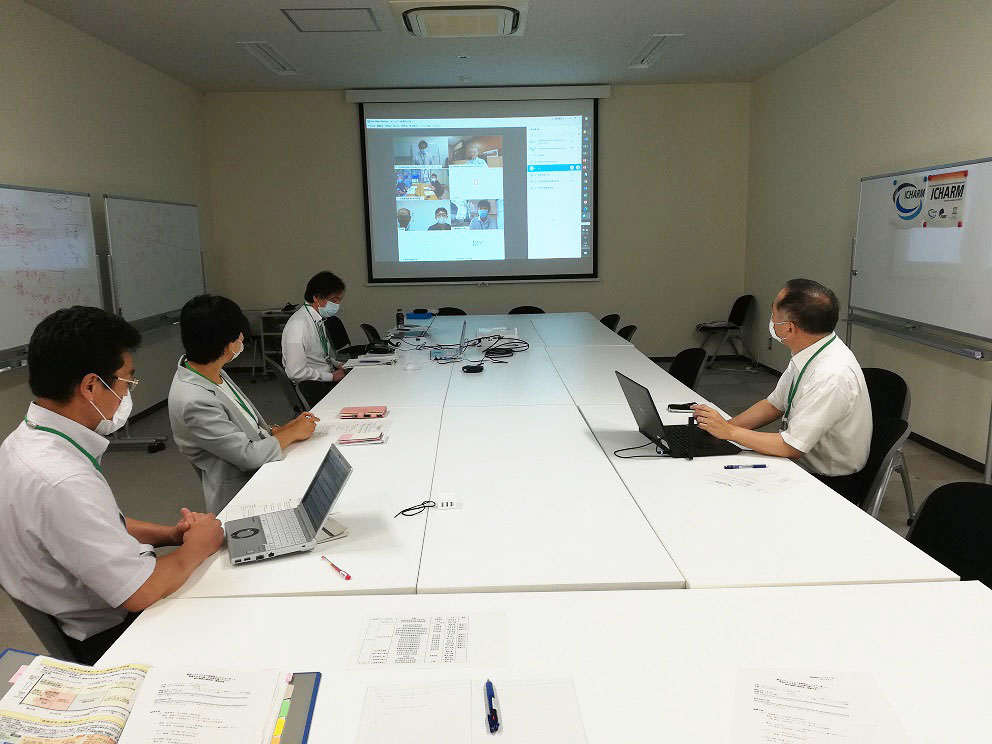 The International Online Conference to Address Water-related Disaster Risk Reduction (DRR) under the COVID-19 Pandemic was held on August 20, 2020. It was jointly organized by the High-Level Experts and Leaders Panel on Water and Disasters (HELP), the United Nations Department of Economic and Social Affairs (UNDESA)/United Nations Centre for Regional Development (UNCRD), the Asian Development Bank (ADB), the National Graduate Institute for Policy Studies (GRIPS), and others.