Recent activities (from ICHARM Newsletter)
ICHARM emphasizes localism, i.e., project implementations tailored to local needs and conditions, by creating an efficient worldwide information network based on innovative research and effective capacity building based on the "ICHARM Work Plan" which is approved by the governing board every year.
Other activities are introduced in the latest ICHARM Newsletter.
The Asian Water Cycle Initiative (AWCI) Session was convened on February 26, 2021, as the first task group of the 13th Asia-Oceania Group on Earth Observations (AOGEO) Symposium. The session gathered more than 60 participants and had fruitful discussions toward the input for the AOGEO Symposium statement.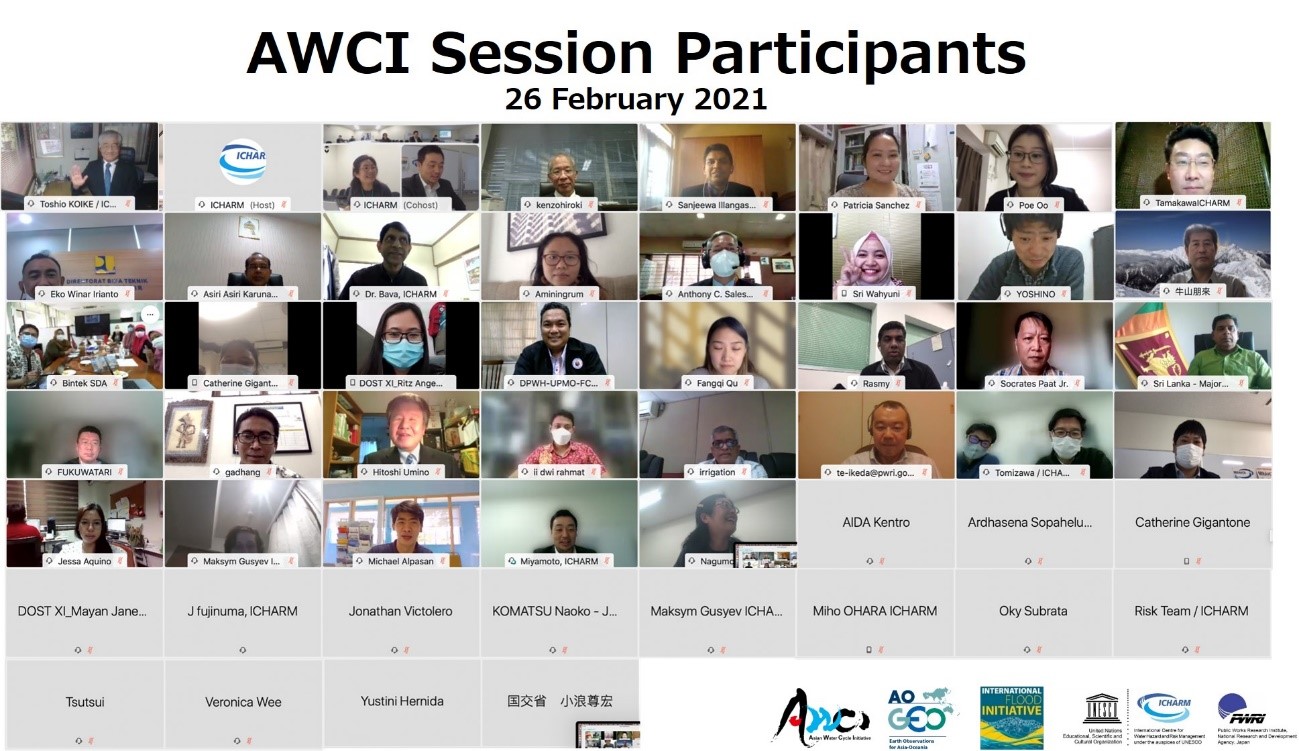 The 66th R&D Seminar was held on March 29, 2021, at the ICHARM auditorium with some audience participating online, inviting a guest speaker, Professor IZUMI Norihiro of the Faculty of Engineering, Hokkaido University. Under the title of "Boundary instabilities observed in rivers," he gave a lecture on the mechanism of formation based on analyses of various patterns, such as dunes, antidunes, sandbars, meanderings, rills on hillslopes, and submarine canyons, which are formed by boundary instabilities occurring between the flow and the ground surface.
The 53rd Annual Session of the Typhoon Committee was held online from February 23 to 25, 2021, hosted by the Japan Meteorological Agency. About 120 participants joined from 14 nations and territories (Cambodia, China, DPR Korea, Hong Kong, Japan, Lao PDR, Macao, Malaysia, Philippines, ROK, Singapore, Thailand, USA, and Vietnam) and two UN organizations (WMO, ESCAP).