ICHARM held a technical session on "Water and Disasters -
Toward Building Resilient Society under Climate Change -" at the CECAR8
Since 1998, the Civil Engineering Conference in the Asian Region (CECAR) has been held every three years, covering all technical fields of civil engineering relevant to the Asia Pacific Region, such as structural, geotechnical, environmental, water resources, transportation, and disaster management. The main organizer is the Asian Civil Engineering Coordinating Council (ACECC), which consists of 13 organizations including the Japan Society of Civil Engineering (JSCE). CECAR8 was held on April 16-19, 2019, at Hotel Metropolitan in Tokyo, Japan, which was the same venue where CECAR2 took place18 years ago in April 2001.
In this event, ICHARM organized a technical session (TS2-6) titled on "Water and Disasters – Toward Building Resilient Society under Climate Change –" on April 17. Mr. Hisaya Sawano, the deputy director of ICHARM, moderated the session, and Dr. Hiroshi Watanabe, the vice president of PWRI, gave an opening address. A series of technical presentations were then delivered by experts in different areas including Dr. Hirotada Matsuki from MLIT of Japan, Prof. Chjeng-lun Shieh from the National Cheng Kung University of Taiwan, and Mr. Irfan Sudono from the Research Centre for Water Resources of Indonesia. Dr. Mamoru Miyamoto of ICHARM was also among the speakers and spoke about the Philippines' progress in disaster management efforts on behalf of Engr. Maximo L. Carvajal, the assistant secretary of DPWH.
After the technical presentations, ICHARM Director Toshio Koike chaired the panel discussion with the speakers, where they discussed how to take necessary actions to cope with changes in the scale of hazards as well as social changes such as aging and depopulation. In conclusion, the panel emphasized the necessity to encourage local authorities to build a resilient society by considering interdisciplinary cooperation with natural and social sciences, introducing a transdisciplinary approach to society, and ensuring a decision-making process based on reliable data.
The session, which gathered about 50 participants, was a good opportunity to highlight water-related disaster issues, for Japan has been suffering from so many flood disasters in recent years.
【Materials】 Agenda of the session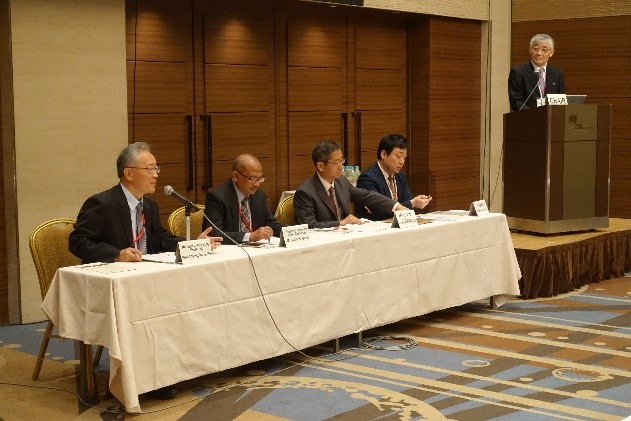 Panel Discussion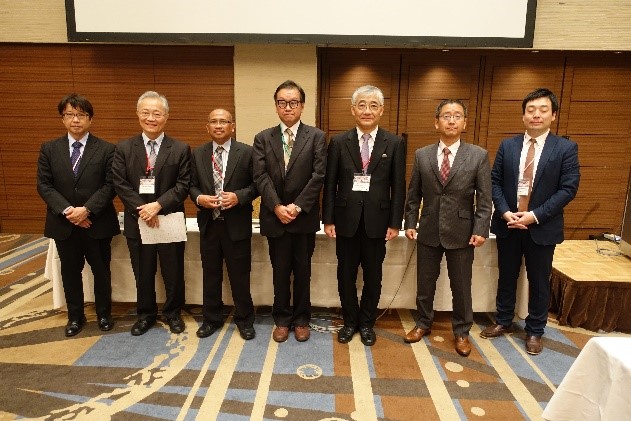 Session speakers