Revised agreement on ICHARM between the government of Japan and UNESCO has been signed
On February 13, 2020, the revised agreement on ICHARM was signed by Ambassador YAMADA Takio, the Permanent Delegate of Japan to UNESCO, and Director-General Audrey Azoulay of UNESCO.
ICHARM, a category II center of UNESCO, was established in March 2006 based on the agreement between the government of Japan and UNESCO. The agreement was first renewed in July 2013 and to be expired in February 2020 after an extension of 6 months. The revised agreement was signed just before the expiration.
Under the revised agreement, ICHARM will continue to conduct various activities covering research, capacity building, and information networking in the field of water-related hazards and risk management at the local, national, regional, and global levels in close cooperation with UNESCO.
The revised agreement will be in effect for 6 years until February 2026.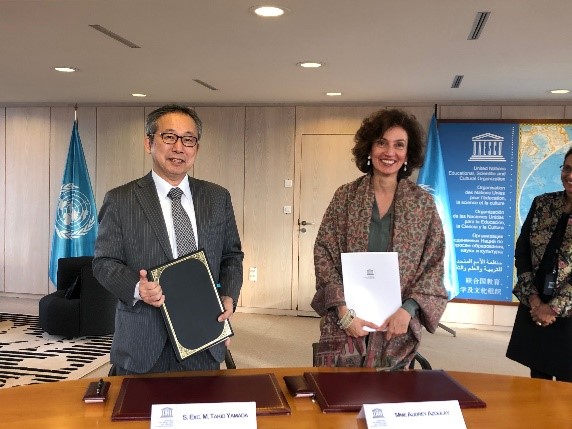 Courtesy of the Permanent Delegation of Japan to UNESCO