ICHARM Executive Director KOIKE Toshio was given
the 2020 GEO Individual Excellence Award
The Group on Earth Observations (GEO) convened GEO Week 2020 online on November 2-6, 2020. On November 4, the 2020 winners of the GEO Individual Excellence Award were announced for the individuals who had demonstrated an exceptional personal commitment to the GEO mission and vision. ICHARM Executive Director KOIKE Toshio was selected for this award for his considerable contribution to the establishment of GEO in 2005 and its subsequent expansion. He was one of the co-chairs of the ad-hoc GEO, the intergovernmental preparatory body for its establishment, and played a leading role in drafting the 10-Year Implementation Plans twice for 2006-2015 and 2016-2025.
Together with Mr. ISHIDA Chu, a senior expert at the Satellite Applications and Operation Center (SAOC), JAXA, Executive Director KOIKE is the first winner from Asia as well as from Japan.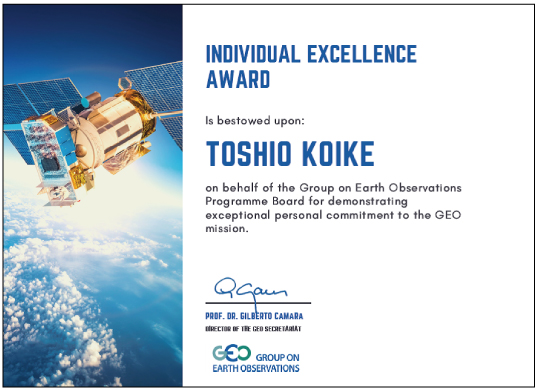 2020 GEO Individual Excellence Award given to ICHARM Executive Director KOIKE
Source:
http://earthobservations.org/geoweek2020.php?t=home
http://earthobservations.org/geo_blog_obs.php?id=473