ICHARM holds the 65th R&D Seminar
ICHARM holds R&D Seminars on an irregular basis to provide self-development opportunities for researchers to keep up with the latest knowledge and information by inviting domestic and international experts in the field of hydrology and water-related disasters.
The 65th seminar was held on December 1, 2020. The speaker was Associate Professor NUMADA Muneyoshi of the Institute of Industrial Science, the University of Tokyo. The title of his lecture is "Approach from the disaster management process and development of the BOSS (Business Operation Support System) for the comprehensive disaster management." He explained BOSS as a system that enables local government staff in charge of disaster response to grasp the whole picture of the disaster and smoothly implement operations, including how BOSS is used in Japan and overseas.
ICHARM plans to hold seminars at various opportunities in the future.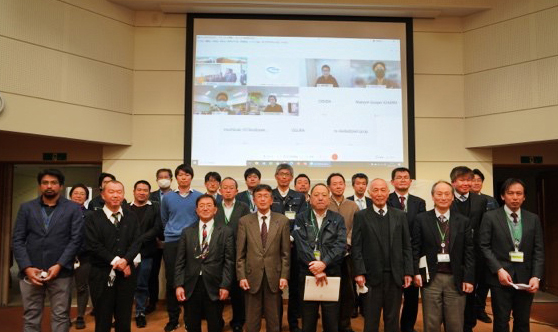 Group photo with audience