ICHARM presented with the Minister of Land, Infrastructure, Transport and Tourism Award for its master's program
Awarded to:
Disaster Prevention Policy Program Water Disaster Risk Management Course
Recipient:
· National Graduate Institute for Policy Studies
· International Institute of Seismology and Earthquake Engineering (IISEE),
  Building Research Institute
· International Centre for Water Hazard and Risk Management (ICHARM),
  Public Works Research Institute
· Japan International Cooperation Agency (JICA)
Award overview:
Japan Construction International Award (honored by the Minister of Land, Infrastructure, Transport and Tourism)
(Pioneering Activity Category)
(GRIPS and JICA, which have agreements on this course, were also awarded at the same time.)
The 6th Japan Construction International Award ceremony was held on June 20, 2023, and ICHARM, along with the National Graduate Institute for Policy Studies (GRIPS) and the Japan International Cooperation Agency (JICA), received the award in the pioneering activity category in recognition of its long-term commitment to graduate-level education in disaster management.
The Japan Construction International Award was established in 2017 by Japan's Ministry of Land, Infrastructure, Transport and Tourism (MLIT) and is presented to selected organizations in the name of the minister. The award recognizes three categories: international construction projects that showcase Japan's strengths, small- and medium-sized construction-related companies that play a leading role in international projects, and pioneering activities that contribute to the realization of quality infrastructure overseas. Through this, Japan aims to strengthen the competitiveness of our country and support the further overseas expansion of Japanese companies. https://www.mlit.go.jp/JCIA/en/
This time, ICHARM received the award in the pioneering activity category for its sustained efforts to offer a master's program in disaster management. The award in this category has been given to universities and other academic institutions that are engaged in forward-looking activities that contribute to ensuring quality infrastructure overseas, including research and development and human resource development, and that are strategically designed to extend their impact far beyond individual projects. All staff at ICHARM is very proud and honored to receive such an award and to be recognized as one of those institutes.
Overview of award winners:
① Background and description of the master's program
Due to climate change and the concentration of population in cities, there are concerns about the frequency and severity of water-related disasters. Against this background, GRIPS, JICA, and the Public Works Research Institute (PWRI) jointly established the Disaster Prevention Policy Program Water Disaster Risk Management Course, a master's level program, in 2007 with the aim of strengthening human resources in developing countries who have advanced knowledge and skills, as well as excellent administrative capabilities, to deal with various issues related to disaster management.
This program is designed for civil servants, engineers, researchers, etc., in the fields of water disasters and disaster management in developing countries. Students receive a master's degree in disaster management upon completion of the course. During the one-year course from October to September, students acquire the knowledge and skills necessary for planning and implementing disaster management policies through a series of lectures and hands-on training conducted in English, including the theory and practice of disaster management based on Japan's experience. Furthermore, through practical training and problem-solving exercises, students acquire the ability to apply the learned knowledge, technology, and policy theories to problems unique to each country, thereby becoming capable experts in developing and executing disaster management policies in their home countries. The program graduated 170 students from 36 countries as of 2022 and has 13 students from six countries enrolled in 2023.
② Business scale:
170 graduates from 36 countries as of 2022
③ Achievements and future prospects
13 students from 6 countries enrolled in 2023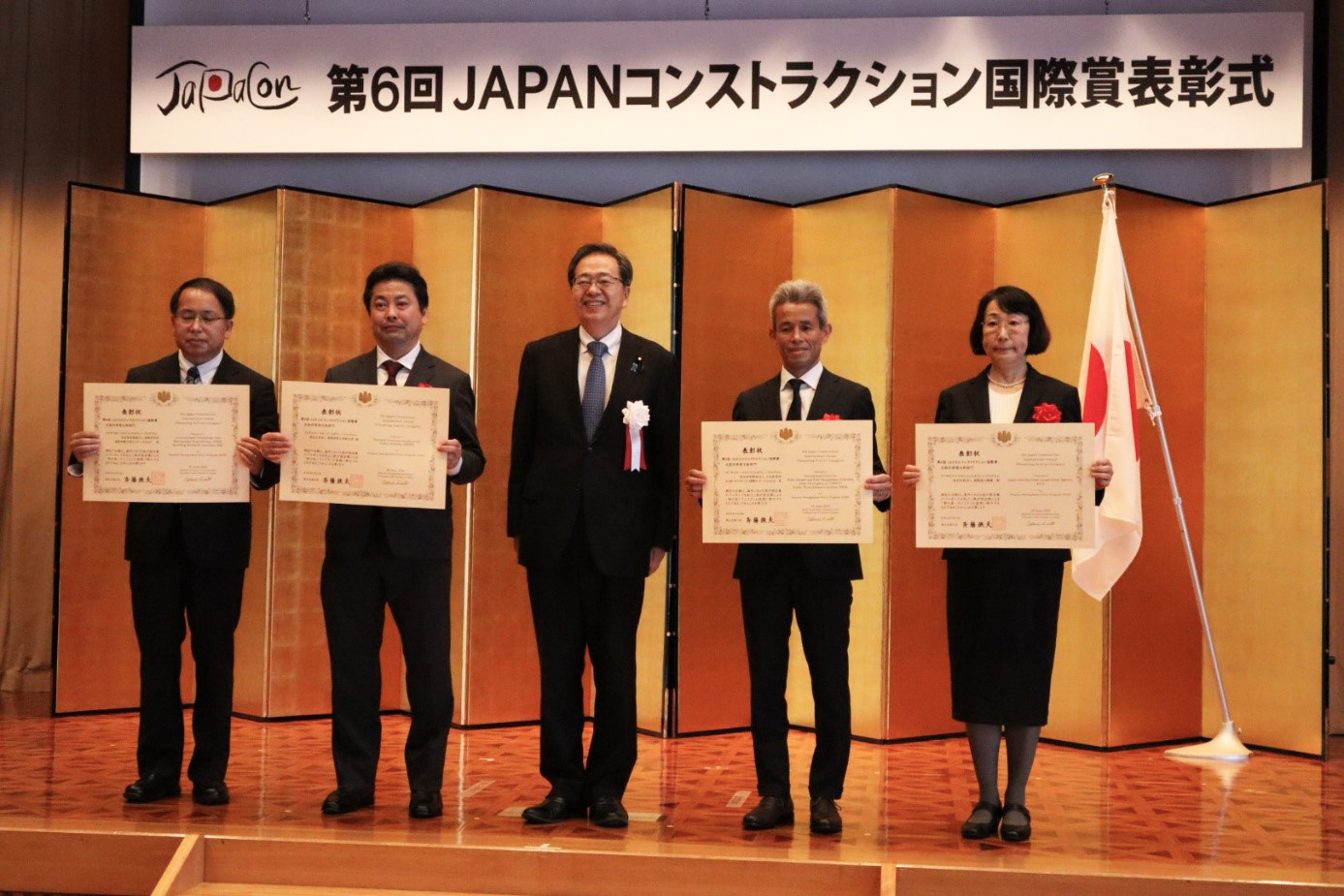 Deputy Director MORI Noriyuki (second from right) with MLIT Minister SAITO Tetsuo (center)
and the other award recipients at the award ceremony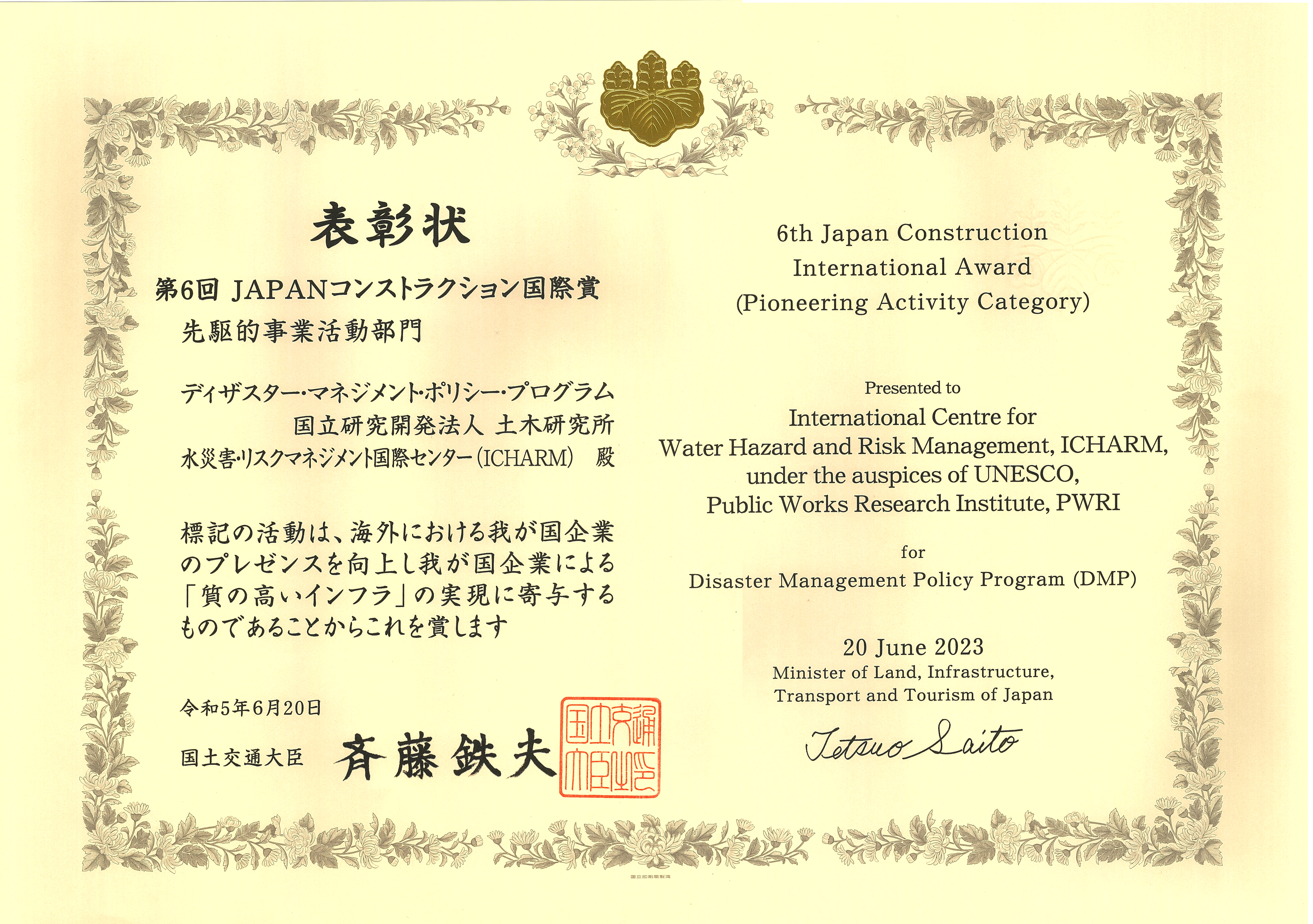 Certificate of the Japan Construction International Award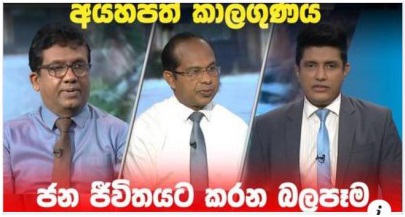 Mr. Seenipellage Chaminda Sugeeshwara (left)
Master's program graduates are active in disaster management for their countries: Mr. Seenipellage Chaminda Sugeeshwara, the director of hydrology and disaster management of the Irrigation Department, Sri Lanka, participates in the disaster expert panel of the local news media and strives to raise public awareness of disaster prevention.