"ICHARM Webinar 2021: Interaction with students
and young researchers" was held
ICHARM held an online event, "ICHARM Webinar 2021: Interaction with students and young researchers," on December 13, 2021. The event was organized with the aim of sharing research activities at ICHARM with those interested, particularly students and young researchers. It was attended by a total of 24 national and international participants.
The webinar was composed of two main sessions: Plenary Session and Thematic Parallel Session. In the Plenary Session, Executive Director KOIKE Toshio delivered opening remarks, and Deputy Director ITO Hiroyuki outlined the activities of ICHARM, including its three pillars of innovative research, effective capacity building, and efficient information networking. This was followed by a short message from a young researcher of ICHARM, NAITO Kensuke, and a brief introduction of the main ICHARM research areas. The Plenary Session was closed with a group photo session.
In the Thematic Parallel Session, the participants were divided into three parallel sessions: a) Hydrology and Meteorology, b) Sediment Transport and Channel Changes, and c) Disaster Risk Reduction. During the parallel sessions, many questions were asked by the participants regarding the research topic and ICHARM's activities, and active discussions were made between ICHARM staff and the participants.
ICHARM hopes that the participants will become more interested in its activities and collaborate in any form with ICHARM in the future.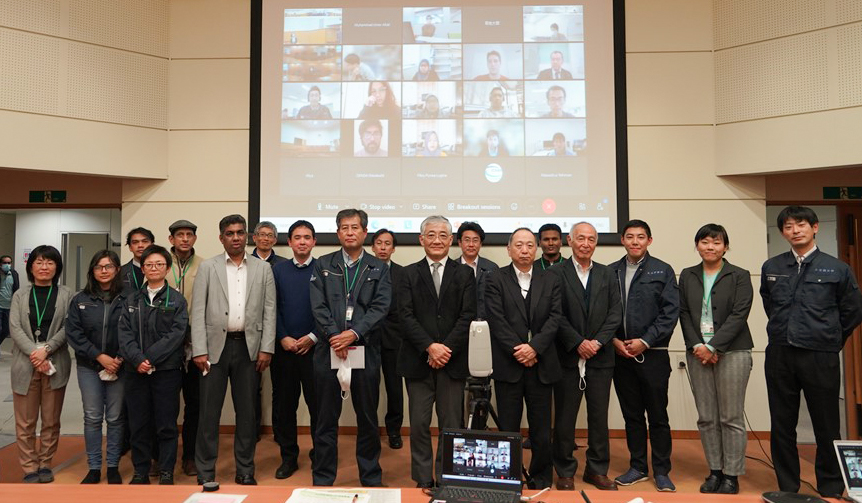 Group photo with audience