"Flood Hazard Mapping" Training Course & Follow-up Seminar
Flood Hazard Mapping 2007
Report of 2007's Activity
The Flood Hazard Mapping Training Course 2007 was held from October 30 through November 29 in cooperation with the Japan Cooperation Agency. This training course is specifically designed for engineers and technicians in the field of river works and flood management in their countries. This year, there were 20 participants from nine different countries, including Cambodia, China, Indonesia, Laos, Malaysia, Sri Lanka, The Philippines, Thailand and Vietnam.
The objective of this training course is two-folded. First, participants acquire the techniques of making and disseminating Flood Hazard Maps. Second, they also learn about flood hazard mapping in different countries, including Japan and other developed countries. We believe that these two factors will help them develop the capacities for effective flood hazard mapping.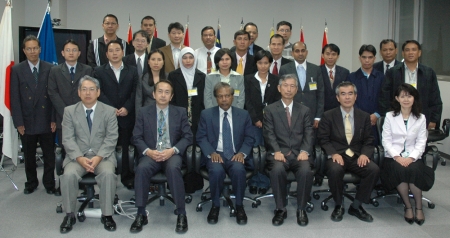 Participants with the course organizers (front row) at the opening ceremony.
Curriculum of this course is composed of mainly four activities as follows;
Lecture:
ICHARM invited several lecturers from other research institutes, such as UNESCO-IHE. The lectures cover a wide range of areas in relation to flood hazard mapping, including flood situations and current status of flood hazard mapping, new techniques (e.g. remote sensing) to obtain different kinds of data to make flood hazard maps, disaster prevention education, and integrated flood management.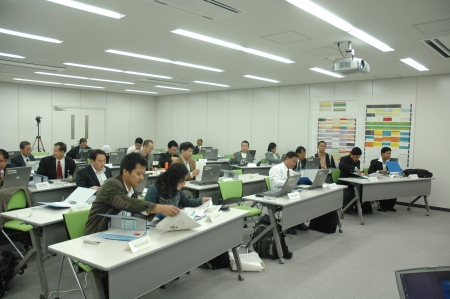 Participants looking over lecture handouts.
Eercises:
The participants performed run-off analysis, GIS handling, inundation simulation and flood hazard mapping by themselves in the exercise time. They used several kinds of technical software, such as Minitab for run-off analysis, ArcView9.1 for GIS handling and HEC-GeoRAS and HEC-RAS for inundation simulation
Field Surveys:
The participants conducted field surveys called "Town Watching" with help from Kurihashi Town and Ise City. In this training, they actually walked around the towns while interviewing local residents and community leaders to find out dangerous points along evacuation routes, the level of residents' awareness towards disaster prevention, and the effectiveness of the current flood hazard maps.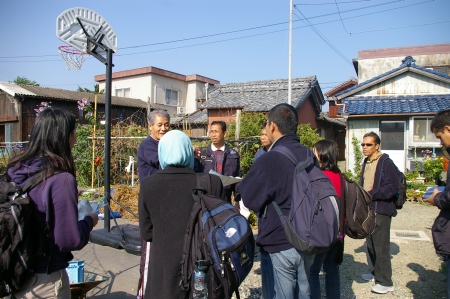 Participants interviewing a resident in Town Watching.
Group Discussions:
Each group conducted discussions to classify problems they found in the field surveys and to come up with solutions to those problems. They also made suggestions to improve the current status of disaster prevention and flood hazard maps of Kurihashi Town and Ise city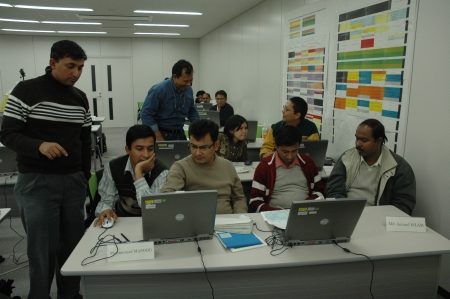 Participantsdiscussing in groups.
This year, the contents of the training course were improved based on the issues form last year and the opinions from the participants of the previous course. Especially, the allocated time and contents for the exercises and Town Watching were largely enhanced. All the participants successfully performed inundation simulation and made their own flood hazard maps for Ise City by using the provided base data and the results of Town Watching.
This means that they are now prepared to make flood hazard maps from the beginning by themselves for any area in their countries, if they can collect necessary data. Furthermore, each participant wrote a concrete action plan of their own, which should help them take concrete action in river works and/or flood management after going back to their countries.
Finally, we at ICHARM would like to express our sincere gratitude to lecturers and those who helped us with Town Watching despite their busy schedules.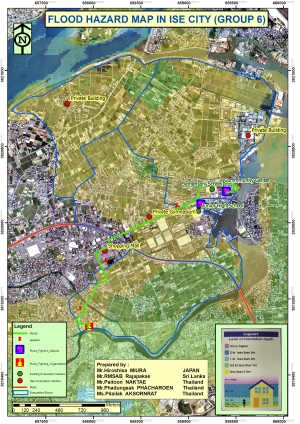 Flood Hazard Map made by participants
[UP]