"Flood Hazard Mapping" Training Course & Follow-up Seminar
Flood Hazard Mapping 2008
Report on JICA Training
"The 5th Flood Hazard Mapping in East/East-Asian Region, 2008"
ICHARM hosted JICA training course "The 5th Flood Hazard Mapping in East/Southeast-Asian Region" from October 28th through November 28th in 2008. This training was launched as a five year-plan and this year's course was the last holding of the training.
The target trainees were engineers and administrative officials who work for the organizations that are responsible for flood control and river management in Southeast Asian countries suffering from flood and storm disasters every year.
Total 10 trainees, those from China, Malaysia, Philippines, Cambodia, Laos, Thailand, and Vietnam, participated in the training course this year. In addition, the students in the master course "Disaster Management Policy Program-Water-Related Disaster Risk Management Course", which is currently ongoing at ICHARM, joined the Flood Hazard Mapping training, making a group of 18 participants in this course.
The course duration was five weeks mainly comprising lectures, practical studies, site observation and discussions.
<Lecture>
The lectures were delivered by the professors invited from universities, UNESCO -IHE and by the lecturers from JAXA, as well as the ICHARM researchers. The topics of the lectures were Japan's legal system related to Flood Hazard Mapping, Local disaster management plan, Disaster prevention education, Cutting-edge technique on satellite data, Human behavior at the time of disaster, and so on.
The group also went on a field trip and visited Ise City in Mie Prefecture, where they attended the lecture on Capacity building against disaster in local community, given by Mr. Kamei, Deputy Mayer of Ise City, who used to be in charge of risk management when he was working for Mie Prefecture Government. Furthermore, the Vice Principal of Ominato Elementary School and the Community Leader of Ominato District kindly took their time to come to talk about their activities and efforts for disaster mitigation directly to the overseas participants. After the interview, the participants were most impressed to know that the basic concepts of disaster management, "self-help", "mutual support" and "public assistance" were deeply penetrated into residents' groups.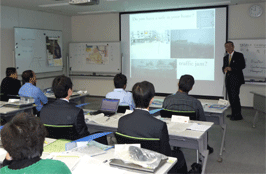 Lecture by Team Leader, Mr. Tanaka(ICHARM)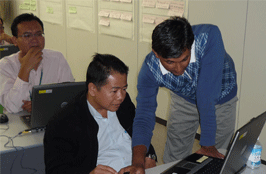 Practice led by Research Specialist, Dr. Osti(ICHARM)
<Practical Study>
The practical study, as the subjects necessary for flood hazard mapping, included GIS exercise and inundation analysis which is used for compilation of anticipated inundation area map at the time of flood. At the end of training, all the participants were able to make their own flood hazard map by using the data brought from their countries.
The participants also exercised "Town Watching" in Kurihash Town, Saitama Prefecture and Ise City, Mie Prefecture. Town watching means to look around the area carrying a flood hazard map to survey the residents' awareness and efficacy of hazard map by interviewing some of the residents and checking dangerous points. For this town watching practice, Ise City Government provided us with great support dispatching their officials to accompany each group of participants.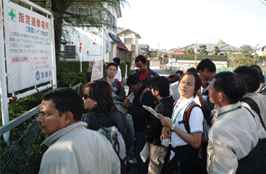 Town watching at Kurihashi Town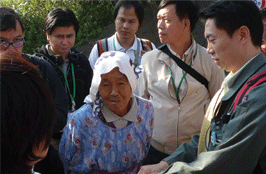 Town watching at Kurihashi Town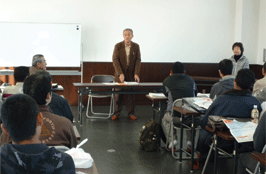 Presentation by Community Leader of Ominato District
Town watching in Ominato District
Flood Hazard Map made by the participants
(Left;made by Malaysian participant, Right;made by Cambodian participant)
<Site observation>
In order to learn flood control measures in Japan, the participants visited Kasumitei(discontinuous levee along ToyoRiver, National Park near the Confluence of three rivers, Kiso, Ibi, and Nagara rivers, and the River Improvement Project site at Miya River, with the cooperation and guidance from Toyohashi River Work Office, Kiso River Downstream Work Office, and Mie River and Road Work Office under Chubu Regional Development Office of Ministry of Land, Infrastructure, Transport and Tourism. At Enza District of Ise City, they interviewed the community leader about how the members of the local community association acted and responded to the flood disaster that occurred in 2004. The leader emphasized the importance of community for disaster mitigation and the strengthened solidarity among the residents over the disaster, which was precious information for the participants.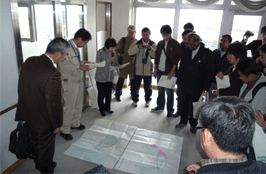 Briefing on Kasumitei at Toyohashi City Hall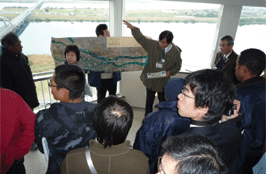 Guidance on outline of Project at Kiso Three Rver National Park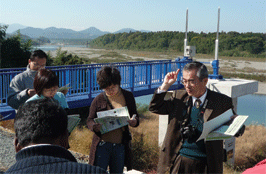 Miya River Improvement project is outlined at Tsujikuru district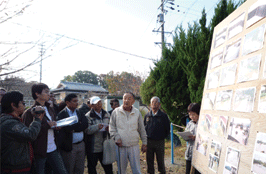 Hearing at Enza District of Ise City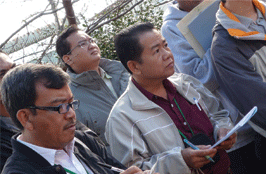 Participants are absorbed in explanation
<Discussion>
Each group of the participants discussed what they learnt from the town watching and how a hazard map should be used or compiled, and then presented their results.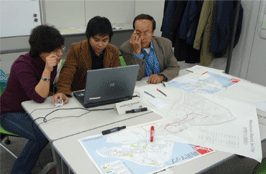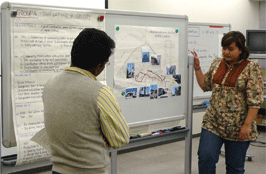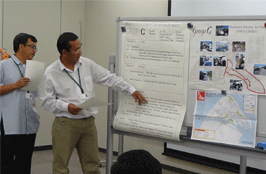 Discussion and presentation by each group
As final output of this training course, the participants compiled an action plan, which is designed to implement flood control measure in each participant's area by using flood hazard map after they go back to respective countries and presented this plan. They are supposed to report their action plan at the organization each participant belongs to when they are back home.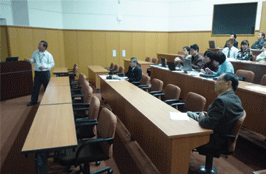 Scene of presentation by participants
The participants are required to share the knowledge and technologies on flood hazard map they acquired in this training with the coworkers in the organizations of their countries. Not only they should contribute to compilation and dissemination of hazard map, but also they are requested to start some activities to promote understanding the significance of hazard map and advocate its importance even in the countries in which hazard map is not obliged by law.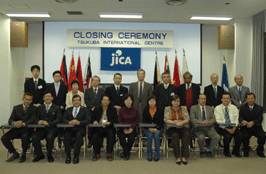 Group photo at the Closing Ceremony
This year's training course was the last one in the plan and next fiscal year we are going to launch a new training course in the field of flood control as three year-plan, which is entitled "Local Disaster Management Plan by using Flood Hazard Map", combining hazard map with flood forecasting and warning, targeting the organizations responsible for disaster management.