Research on ensuring the safety and reliable road transport services in winter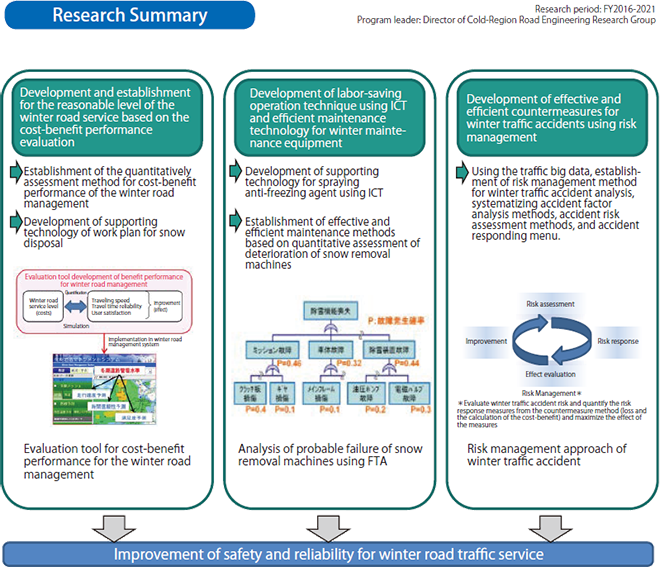 Japan is facing the nationwide problems such as population decline, aging population, large-scale disasters, and financial shortage. In the snowy and cold regions, it has been more difficult for the government to continue to provide the same winter road services due to the financial deterioration. Therefore, the Ministry of Land, Infrastructure and Transport, has launched a compact + network of the national land structure (National Spatial Planning approved by the Cabinet, August 2015).
We must have the inter-regional cooperation and sharing functions by strengthening of the transportation network in order to realize this national land structure in the cold and snowy region. We also need to ensure the safe and reliable winter road traffic service.
In this research program, we have 3 achievement goals and set the "development of management technology techniques contributing to the safety and reliability of the winter road traffic services" as a program goal.
①

Development and establishment for the reasonable level of the winter road management based on the cost-benefit performance evaluation

②

Development of labor-saving operation using ICT and efficient maintenance technology for winter road management

③

Development of countermeasure technology for effective and efficient winter traffic accident by risk management
By giving these research result back to society we will support safe and reliable winter load traffic services in the snowy and cold regions.

Go to Top of This Page