Publications
 Brochures |Public Relations Magazines | Publications
PWRI Catalogues 2018 (English)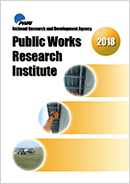 PWRI Catalogues 2017 (English)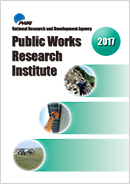 We will be sending you updated information such as introduction of a variety of Public Works Research Institute's research themes, lectures, viewing and experiencing the research facilities, etc, in a form easy for anyone to understand.

In each issue, we will be featuring our research on natural environment preservation and restoration of rivers, lakes and marshes and send you the center's research result in a way easy for you to understand. We also introduce you the research columns concerning rivers, related facilities, most updated information on our research and environmental education.
We report each one of Aqua Restoration Research Center's research results of the year in the Q&A style. We also present you records of our activities such as the open experiments and environmental education programs.

We present you the research contents, research results and other topics of Snow Avalanche and Landslide Research Center.

Aiming to improve the technological standard of the relevant institutions and to help the people deepen their understanding on our research activities, we, Civil Engineering Research Institute for cold Region, issue "Monthly report" as a way to introduce our research activities and research results to you.

Civil Engineering Research Institute for Cold Region and the Cold-Region Road Engineering Research Group offer updated information on their research/ investigation results, etc, to specialist engineers of the government, private companies, universities and so on aiming to be a transmission base for information on cold-region road technology.

This news letter is issued with an aim to broadly introduce the activities of Independent Administrative Agency International Center for Water Hazard and Risk Management (ICHAR), which has been established and managed with support from UNESCO, to all the people concerned.
CAESAR's newsletter aims to send out a variety of information on Center of Advanced Engineering Structural Assessment and Research's maintenance and management including its research results.

UJNR is a section where Japan and America, in view of the fact that they are both victims of earthquakes, strong wind, storm surges and Tsunamis, share their research results concerning design methods of aerodynamically durable and anti-seismic structures and so on, and issues news letters on their activities every alternate month.
PWRI exercises the copyright and sells literature below, which you can find in bookstores.
Title
Handbook for Handling Rocks and Soils Containing Naturally-occurring Heavy Metals at construction works

Writers / Editors
Public Works Research Institute, Public Works Research Center
Format
204 pages in A5 format
Publisher
Taisei Publishing Co., Ltd.
Price
2,000 yen (Tax not included)
Date of issue
March 2015
Title
Practical Guide to Water Drainage Boring for Preventing Landslides
Writers / Editors
Public Works Research Institute, Aqua Control Co., Ltd., UBE KENSETSU Consultant Co., Ltd., Token Geotec Co., Ltd., KOKEN BORING MACHINE Co.,Ltd., SE Co., Ltd., Japan Foundation Engineering Co., Ltd., KAJIMA Co., Ltd., FREE KOGYO Co., Ltd.
Format
128 pages in B5 format
Publisher
Kajima Institute Publishing Co., Ltd.
Price
3,400 yen (Tax not included)
Date of issue
December 2013
Title
Manual for Utilization of Soils from Construction (4th Edition)
Writers / Editors
Public Works Research Institute
Format
204 pages in A5 format
Publisher
Public Works Research Center
Price
2,000 yen (Tax not included)
Date of issue
December 2013
Title
Shape estimation method of landslides line
Writers / Editors
Public Works Research Institute, KOKUSAI KOGYO Co., Ltd., NIPPON KOEI Co., Ltd., Kiso-jiban Consultants Co., Ltd., KITAC Co., Ltd., Radic Co., Ltd.
Format
136 pages in B5 format
Publisher
Kajima Institute Publishing Co., Ltd.
Price
3,800 yen (Tax not included)
Date of issue
May 2013
Title
Integrated geophysical exploration of levee systems – A Guideline for the application to the safety assessment -
Writers / Editors
Public Works Research Institute, Society of Exploration Geophysicists of Japan
Format
120 pages in B5 format
Publisher
Aichi Shuppan Co., Ltd.
Price
2,800 yen (Tax not included)
Date of issue
March 2013
Title
Manual of Countermeasures for Ground Contamination in Construction Works (Revised edition)
Writers / Editors
Public Works Research Institute
Format
144 pages in B5 format
Publisher
Kajima Institute Publishing Co., Ltd.
Price
2,400 yen (Tax not included)
Date of issue
April 2012
Title
Manual for Inspection of Concrete Structures by Nondestructive/Micro-destructive Tests
Writers / Editors
Public Works Research Institute, The Japanese Society for Non-Destructive Inspection
Format
330 pages in B5 format
Publisher
Taisei Publishing Co., Ltd.
Price
3,400 yen (Tax not included)
Date of issue
August 2010
Title
Manual for Landslide Measurements with Insertion Borehole Inclinometer
Writers / Editors
Public Works Research Institute, OYO Co., Ltd., SAKATA DENKI Co., Ltd., Nippon Koei Co., Ltd.
Format
222 pages in B5 format
Publisher
Rikohtosho Co., Ltd.
Price
3,200 yen (Tax not included)
Date of issue
July 2010
Title
Soil Pavement Handbook (for Pedestrial Pavement)
Writers / Editors
Public Works Research Institute
Format
100 pages in A5 format
Publisher
Taisei Publishing Co., Ltd.
Price
2,000 yen (Tax not included)
Date of issue
August 2009
Title
Manual for Recycling Construction Generated Sludge
Writers / Editors
Public Works Research Institute
Format
298 pages in A4 format
Publisher
Taisei Publishing Co., Ltd.
Price
5,000 yen (Tax not included)
Date of issue
December 2008
Title
Inspection and Maintenance Manual for Ground Anchors
Writers / Editors
Public Works Research Institute, Japan Anchor Association
Format
166 pages in B5 format
Publisher
Kajima Institute Publishing Co., Ltd.
Price
3,000 yen (Tax not included)
Date of issue
July 2008
Title
Manual for Utilization of Liquefied Stabilized Soil (2nd edition, 2007)
Writers / Editors
Public Works Research Institute, LSS Method Engineering Consultants, Inc.
Format
121 pages in B5 format
Publisher
Gihodo Shuppan Co., Ltd.
Price
3,000 yen (Tax not included)
Date of issue
February 2008
Title
Manual of Simple Measurement Methods for Dioxins in Soil
Writers / Editors
Public Works Research Institute
Format
83 pages in B5 format
Publisher
Kajima Institute Publishing Co., Ltd.
Price
1,900 yen (Tax not included)
Date of issue
April 2006
Title
Manual of Application Technology of Other Industries Recycled Material in Construction Works
Writers / Editors
Public Works Research Institute
Format
246 pages in A4 format
Publisher
Taisei Publishing Co., Ltd.
Price
3,900 yen (Tax not included)
Date of issue
April 2006
Title
Manual of Countermeasures for Dioxin-Contaminated Soil in Construction Works (Provisional edition)
Writers / Editors
Public Works Research Institute
Format
128 pages in B5 format
Publisher
Kajima Institute Publishing Co., Ltd.
Price
2,200 yen (Tax not included)
Date of issue
December 2005
Title
Guideline for Recycling Waste Wood (Draft)
Writers / Editors
Public Works Research Institute
Format
121 pages in B5 format
Publisher
Taisei Publishing Co., Ltd.
Price
1,900 yen (Tax not included)
Date of issue
December 2005
Title
Collection of Physical and Chemical Information Regarding Human Use Pharmaceuticals
Writers / Editors
Public Works Research Institute, Towakagaku, co., LTd.
Format
246 pages in A5 format
Publisher
Gihodo Shuppan Co., Ltd.
Price
6,400 yen (Tax not included)
Date of issue
November 2005
Title
Manual for Inspecting Soundness Level of Concrete Structures Using Nondestructive Tests
Writers / Editors
Public Works Research Institute, Nippon Structural Inspecting and Technology Association
Format
216 pages in A5 format
Publisher
Gihodo Shuppan Co., Ltd.
Price
4,400 yen (Tax not included)
Date of issue
October 2003
Title
Eco-cement Concrete Utilization Technology Manual
Writers / Editors
Public Works Research Institute
Format
116 pages in A5 format
Publisher
Gihodo Shuppan Co., Ltd.
Price
2,000 yen (Tax not included)
Date of issue
March 2003